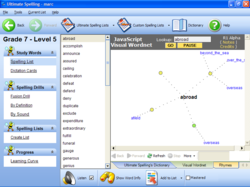 "I hope these competitions will serve as examples to children and motivate them to learn and improve spelling,"
New York City, NY (PRWEB) September 02, 2012
The recent wave of adult spelling bees in the United States has attracted thousands of adults who are interested in spelling. The 7th annual National Adult Spelling Bee held on April 22, 2012 in Long Beach, California, attracted adult spellers from as far as Georgia, Virginia and Alabama. The bee was sponsored by Justin Judd and the Community Action Team. Michael Petrina from Arlington, Virginia took home $1,000 after spelling this year's winning words: dossier and flageolet. Michael has promised to donate half of the prize money to the Alzheimer's association.
Similarly, the Wallingford Education Foundation (Wallingford, Connecticut) recently gave adults the opportunity to improve their spelling through the second Annual Adult Spelling Bee. The event organizers aimed to raise $8,000 for the upgrading of the town's Sheenan High School's Mahan Planetarium. The competition attracted local politicians, parents, and business people. Last year, the first Wallingford adult spelling bee attracted 16 teams of three people each and raised $7,000. Mayor William W. Dickinson Jr., who took part in the spelling bee said that it was fun, competitive, and a unique way to raise money.
On March 30, yet another organization, the Andover Fund for Education, hosted the 15th annual Andover Spelling Bee for adult teams. The community event aimed to raise money to support teachers' creative projects in the area's public schools. The money was also used to support local businesses and organizations.
Marc Slater, the Managing Director behind Ultimate Spelling, has applauded the organizers of the adult spelling bees. "I hope these competitions will serve as examples to children and motivate them to learn and improve spelling," he says. Ultimate Spelling, the modern spelling software created by eReflect, enables both children and adults to learn and improve their spelling in a fun and entertaining manner. It is designed for students who are learning to spell, and provides exercises in spelling-bee format for users to practice their competition skills.
To find out more and get on the road to better spelling by next week, please visit: http://www.ultimatespelling.com
About Ultimate Spelling™
Ultimate Spelling provides a modern and easy to use spelling software that has been designed with one goal in mind – making children WANT to learn.
It is a fast and easy way to master even the most complicated spelling, without the need to write long lists or complete boring tests.
In fact, Ultimate Spelling provides more than just spelling help. It is a complete educational resource that boosts all level of a child's literacy.
Containing a personal computer tutor, Ultimate Spelling is the most realistic step-by-step guide to flawless spelling ability.