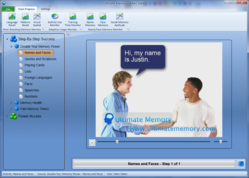 ...your memory is not fixed. It can be exercised just like a muscle, and a small amount of exercise can have dramatic results, no matter what your age, ability, or background."
New York, NY (PRWEB) September 03, 2012
Researchers at the Health Science Center at the University of Texas are currently studying and developing a new learning method that could enhance memory in humans. The study (which is being conducted on sea snails) has revealed that it is possible to identify periods when the brain is primed for learning. Thus, if learning or memory training sessions are scheduled during this time, memory could be enhanced significantly, according to John H. Byrne who is leading the study.
Appreciating the potential of this study, Marc Slater, Managing Director of eReflect, said, "In other words, your memory is not fixed. It can be exercised just like a muscle, and a small amount of exercise can have dramatic results, no matter what your age, ability, or background." The fundamental science behind Ultimate Memory, the memory software from eReflect, relies on the concept of brain neuroplasticity, which has been demonstrated clearly in several scientific studies. Neuroplasticity refers to the ability of the brain to grow new cells as a result of memory training. "Allocating just 10 minutes every day to memory training can improve your memory significantly," Slater adds.
Ultimate Memory has been scientifically designed to improve memory through training, and this training will be even more effective when used in the "prime learning periods" once those are determined. Notable features of the program include 10 scientific memory-building games, video training, a proprietary algorithm that optimizes learning, and advanced progress tracking for all users (the software supports multiple users). With the help of this software, users can remember names, faces, facts, and numbers more easily, something that significantly impacts people as they age. "Aside from increasing memory power, memory training can also delay the onset of dementia," says Mr. Slater. He recommends that everyone, whether children or adults, take up memory training since a good memory is central to success in both education and professional fields.
For more information, please visit: http://www.ultimatememory.com
******
About Ultimate Memory™
Ultimate Memory™ is the market's leading memory improvement software package.
Scientifically proven to improve memory with as little as ten minute's user per day, Ultimate Memory™ is also backed by an iron-clad guarantee.
Containing many innovative strategies, tutorials, tips and exercises, users benefit from a myriad of varied ways to learn.