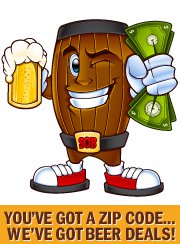 If one were to add the cost of parking, beer and a hotdog and multiply by the 8 home games, the tab would be almost $1,000.
Houston, TX (PRWEB) September 20, 2012
It's not cheap to attend a football game in 2012 America. According to a recent report published by FanCostExperience, the average non-premium ticket sells for $78.38. If one were to add the cost of parking ($27.35), beer ($7.28) and a hotdog ($4.84) and multiply by the 8 home games, the tab would be almost $1,000. SaveOnBrew – America's only price-search engine for beer – went one step further and identified the NFL stadiums with the highest and lowest beer prices for the 2012 - 2013 season. They've summarized their findings in an inforgraphic, which can be found on their web site.
Stadiums with the best prices on beer, ounce for ounce, included the Mercedes-Benz Superdome (home of the New Orleans Saints), Reliant Stadium (home of the Houston Texans), and the Heinz Field (home of the Pittsburgh Steelers).
Saints fans will enjoy 24 ounces for $8.50, or 35 cents per ounce. Steelers fans can down 21 ounce servings for just $7.50, or 36 cents per ounce, while fans of the Houston Texans can enjoy the best beer on deal for the second year running, paying $6.00 for a 21 ounce serving, a rock-bottom 29 cents per ounce.
Not all is rosy, in the land of concussions. The worst deals on beer can be had at MetLife Stadium, host to the New York Giants and New York Jets, where fans pay a whopping $8.75 for a 16 ounce pour clocking in at 55 cents per ounce. On the other side of the country, San Diego Charger fans pay a dollar more than they did in 2011, or $9.00 for a 16 ounce serving, working out to 56 cents per ounce. The worst place to drink beer (price wise) is Lucas Oil Stadium, home of the Colts. There, a meager 12 ounce pour will set you back $7.00, or 58 cents per ounce.
"The 2012 prices are in-line with year-to-year increases," says SaveOnBrew founder Mark Davidson, "but it's still a tough beer to swallow in such a dreary economy. Given the exorbitant price of beer at the games, I'm a big proponent of tailgating. Fifty-eight cents an ounce is insane, especially when you can swing by a local retailer and enjoy a few pre-game brews for as low as 3.4 cents per ounce."
Consumers can bargain shop for tailgating beers at http://www.SaveOnBrew.com, which lists all brands on sale in America. Users need only enter a zip code to access local deals and maps to the nearest retail locations. SaveOnBrew recently conducted a survey and found the most popular tailgate beers include: Bud Light, PBR, Sam Adams, Oskar Blues, Sierra Nevada IPA, Brooklyn, New Belgium and Shiner Bock.
About SaveOnBrew.Com: Founded in 2010 to help thirsty beer drinkers across the United States find the lowest advertised prices for one of the world's most popular beverages.