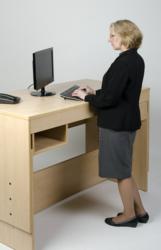 (PRWEB) September 13, 2012
SpectrumGTS, LLC today announced the introduction of their new line of full sized adjustable Standing Desks
The Standing Desk System utilizes patent pending technology to adjust the height of the desk to fit each individual user. The height of the desk can be changed in 1 1/2" increments to get the most ergonomic fit for each worker. The Standing Desk System not only comes with a full sized top, but also has room to add drawers and shelves to provide a perfect workspace in today's office environment.
There have been a number of studies recently stating that sitting all day is not healthy. A desk that allows a user to stand while working is better for the heart and back. Studies have shown that sitting for long periods of time can increase fat content in the body, and have other long term adverse health effects.
The Standing Desk System enables employees to move around and stretch during the workday. By using a standing desk or standup desk, users can burn more calories during the day and maintain a healthy lifestyle. Of course, workers can take a break and sit by using a stool or drafting chair.
Being able to stand while working is only one of the benefits in using the Standing Desk System. Each desk comes with a solid, full sized desktop with approximately 30" x 60" of workspace. Having a large work surface is even better when users can keep their workspace clutter-free. Adding drawers or shelves to the standing desk gets pens, paperclips, memory sticks and various papers off of the desktop, providing workers with plenty of storage space and room to work.
In order to build a desk that can have its height changed from 36" to over 46", it must be solid and strong. The standing desk has extra braces and the connectors are all metal. The top and center brace have rounded edges for more comfort. Currently, the desks come in a maple and black finish to fit in with almost any décor. The desks provide an ergonomic and functional workspace at a competitive price.
SpectrumGTS' Standing Desk System is designed to be a system that the end user can configure as they want. The Patent Pending Standing Desk is the base of the system, but there will continue to be innovations and new products for today's ever changing office environment. SpectrumGTS believes that the workplace is changing, and workers need better tools to manage this change. Those tools include an ergonomic desk that will help one's posture and health while working.
Check out our website at http://www.standingdesksystem.com. Or if you have any questions or want to find out more, you can email us at info(at)standingdesksystem(dot)com or call us at 203-678-3031.