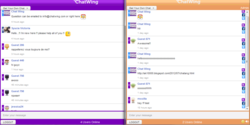 Austin, TX (PRWEB) September 01, 2012
Zynga's game development formula is definitely working, based on the thousands of people playing the company's games everyday. Castleville, a kingdom-building game, is one of the hottest games in Facebook today. Across the social networking site, Castleville players are exchanging comments and inviting each other as 'game neighbors.' Seeing the potential of Castleville niche, the Chatwing Development Team has released a multi-functional chat widget that can bring Castleville players and bloggers together. The Chatwing application is highly customizable, offers unlimited chat box creation, and can be installed in less than a minute.
Castleville players tend to visit Facebook groups and communities to ask for invites or send out invitations. This is the basic approach in widening a Facebook gamer's network. Through the Chatwing chatbox, Castleville gamers can communicate easily. They can send links of their profile names, or they can use their Facebook accounts to log in the Chatwing chatroom. Chatwing users who logged in with their Facebook accounts will have their profile names clickable to anyone in the chatroom.
Castleville bloggers are also common nowadays. These bloggers love to feature their kingdom-building escapades, share screenshots of their kingdoms, and share tips that can improve gameplay. Castleville blogs are also social hubs that can be visited by players to find neighbors. Chatwing's free shoutbox can help these blogs gain proper online presence and activity. According to many bloggers who have used Chatwing, their blogs had spikes of visibility in just few days or weeks. Chatwing developers believe that a blog's visibility is affected by blog content, widgets, and the way bloggers interact with visitors. Chatwing's free chat box also has a 1000-user capacity, increasing the potential for global connection.
The Chatwing team is planning to expand in other outstanding Facebook niches as well. In this way, many people can understand the real importance of website chat, blog interaction, and social media exploration. Gamers from all platforms can also benefit from the Chatwing chat app because it is versatile and 100% adaptable.
About Chatwing.com
Chatwing.com specializes in the new field of website chat. Over years, the Chatwing team has introduced live chat box for hundreds and thousands of blogs. The Chatwing application bridges people from many parts of the world, creating global synergy through the Internet. The shout box can be installed in just seconds, and it can be used for varying purposes such as leisure and Internet marketing. It also allows a user to customize the size, color, and name of the widget. Chatwing is 100% free for everyone.