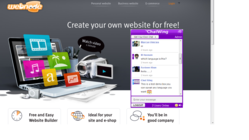 Providence, RI (PRWEB) September 01, 2012
There are many ways products reach people: long-term marketing campaign, social media, or product blogging. Many professionals believe that product blogging is the new trend, and can ease up any marketing efforts in the long run. To blog about a certain product, the blogger must be fully aware of its specifications, advantages, and disadvantages. The Chatwing Development Team has recently launched its website chat box in Webnode. The goal is to empower the niche of product blogging by creating strategic streams of communication. The Chatwing app is compatible to most blogs and websites, allows social media integration, and also offers high customization rate.
Webnode product bloggers can install the Chatwing free shout box in just few steps. First, the blogger must register his blog or website's domain name. Second, he must select from Chatwing's three forms: shoutbox form, pop-up window, or direct link URL. After selecting a form, the user will be prompted to modify the appearance of his chatbox. The default appearance of the chatbox is purple, but the user can set his own color. The title and size of the widget can also be set. After completing the steps, Chatwing will provide the HTML code and the user can embed it to his blog. The direct link option, however, allows the user to create his unique shortlink; he can now send this shortlink to his friends to start private group chats.
The Chatwing team has always wanted the chat app to become as simple as possible. Through this, people will be able to use the application with relative ease, rather than fumble over complicated commands. Product bloggers can use the Chatwing free chat box as a handy avenue of communication. Instead of waiting for blog comments and posts, visitors can just share their questions and inquiries in the chatroom. The product blogger can answer them directly, and he can also post updates about his blog of the products he is reviewing.
Chatwing will continue to offer more opportunities for better website communication. Aside from Webnode, the Chatwing team is looking forward to expand in different communities. To keep this strategy ongoing, the developers of Chatwing will conduct a series of maintenance checks and platform upgrades. The team is also maintaining a Facebook page to ensure that people are getting a proper amount of information.
About Chatwing.com
Chatwing.com specializes in the new field of website chat. Over years, the Chatwing team has introduced live chat widget for hundreds and thousands of blogs. The Chatwing application bridges people from many parts of the world, creating global synergy through the Internet. The shout box can be installed in just seconds, and it can be used for varying purposes such as leisure and Internet marketing. It also allows a user to customize the size, color, and name of the widget. Chatwing is 100% free for everyone.