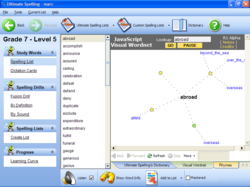 Our system is geared towards interactive and productive learning. If children enjoy learning they will learn faster.
New York City, NY (PRWEB) September 04, 2012
Millions around the world turn to Software Review Boffin in order to find trusted and impartial reviews on software from a huge range of categories. Having just completed a series of reviews on spelling software packages, the website has rated Ultimate Spelling™ as its number one choice.
The award comes following an extensive period of use and review by the highly scrutinous website. Eventually producing its first, second and third-place winners, Software Review Boffin has now published its results for the world to see.
"We have recently been informed that we were awarded their gold medal for a first-rate review," says Marc Slater, Managing Director of the company that created Ultimate Spelling™.
He continues, "It's an honor to have such an honest, frank and impartial website rate our software platform so highly."
Within its narrative review, Software Review Boffin praised Ultimate Spelling's ability to do away with traditional, boring spelling tuition.
"They have specifically focused on creating a piece of software that actually makes kids want to learn, without it feeling like a chore or like homework. They have completely done away with traditional classroom methods of learning spelling, in favor of much more lively and fun activities," the website wrote.
In fact, Ultimate Spelling™ claims to be able to improve the spelling of any child within one week, with as little of ten minutes use each day.
"Our system is geared towards interactive and productive learning. If children enjoy learning they will learn faster. Therefore, our one-week and ten-minute claims are very much an achievable reality," Slater concludes.
To find out more about the Ultimate Spelling™ system, visit http://www.ultimatespelling.com
******
About Ultimate Spelling™.
Ultimate Spelling provides a modern and easy to use spelling software that has been designed with one goal in mind – making children WANT to learn.
It is a fast and easy way to master even the most complicated spelling, without the need to write long lists or complete boring tests.
In fact, Ultimate Spelling provides more than just spelling help. It is a complete educational resource that boosts all level of a child's literacy.
Containing a personal computer tutor, Ultimate Spelling is the most realistic step-by-step guide to flawless spelling ability.