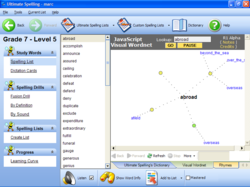 Our team has always worked to its highest level to create spelling improvement software that sits within a class of its own.
New York City, NY (PRWEB) September 05, 2012
With impartial reviews offering an honest and frank insight into millions of software packages, coming out on top is quite the accolade. Having been included in a series of reviews to identify the best spelling software, Ultimate Spelling™ is proud to have been voted number one by TopTenReviews.
The review scored Ultimate Spelling™ alongside nine other popular spelling improvement software packages. Trying and testing everything from features and benefits to ease of use and value for money, Ultimate Spelling™ was voted the clear favourite.
"Over forty aspects of each software package were reviewed and ranked against each other," says Marc Slater, Managing Director of the company behind the Ultimate Spelling™ platform.
He continues, "Our offering emerged as the clear winner on all counts. Those are not our words, but the words of TopTenReviews."
For example, Ultimate Spelling™ was one of only two software packages given a one hundred percent rating for 'value of resources'. However, when compared against this same competitor for the number of included words, Ultimate Spelling™ soars ahead, offering four times as many words within its database.
"Our team has always worked to its highest level to create spelling improvement software that sits within a class of its own. The number-one rating from TopTenReviews solidifies this goal as a mission accomplished," Slater adds.
The Ultimate Spelling™ system is currently used within thousands of applications around the world. Ranging from homes and schools to educational institutions and public libraries, the world is quickly realizing that the platform is the quickest and easy way to improve the spelling of any child.
To find out more about the system, please visit: http://www.ultimatespelling.com
******
About Ultimate Spelling™.
Ultimate Spelling provides a modern and easy to use spelling software that has been designed with one goal in mind – making children WANT to learn.
It is a fast and easy way to master even the most complicated spelling, without the need to write long lists or complete boring tests.
In fact, Ultimate Spelling provides more than just spelling help. It is a complete educational resource that boosts all level of a child's literacy.
Containing a personal computer tutor, Ultimate Spelling is the most realistic step-by-step guide to flawless spelling ability.