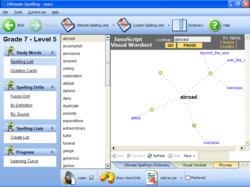 We have a great research and development team behind the software.
New York City, NY (PRWEB) September 07, 2012
TopTenReviews has become the web's 'go-to' website for honest, expert-rated reviews on software from a myriad of categories. Today, following the website's review of spelling software packages, Ultimate Spelling™ is delighted to announce its first-place award.
TopTenReviews provided an in-depth spelling software review of ten of the world's most popular spelling software packages; rating aspects including features, user support, ease of use and value of resources.
As the Managing Director of Ultimate Spelling's creators explains, the accolade couldn't have come at a better time.
"We have recently updated the Ultimate Spelling™ system, with a feature-packed upgrade for 2012," explains Marc Slater.
He continues, "Our team were aware that we may be reviewed at some point. TopTenReviews have a reputation of being extremely scrutinous, so we were thrilled to have been awarded their number one position."
Over forty facets of each software package were put under the judges' spotlight; providing an in-depth and thorough showcase of each product. Ultimate Spelling™ ranked highest on virtually every aspect.
For example, its nearest contender offered a thirty two thousand word database. Ultimate Spelling™ raced ahead with over one hundred and sixty thousand words, thus containing four-times as many words as its second-place cousin.
"We have a great research and development team behind the software. Their dedication to accuracy and depth allows us to offer a spelling improvement software package that really does compete on the world's stage. Our number one rating from TopTenReviews is proof of this," Slater adds.
To check out Ultimate Spelling™ and find out why it was the judges' clear winner, please visit: http://www.ultimatespelling.com
******
About Ultimate Spelling™.
Ultimate Spelling provides a modern and easy to use spelling software that has been designed with one goal in mind – making children WANT to learn.
It is a fast and easy way to master even the most complicated spelling, without the need to write long lists or complete boring tests.
In fact, Ultimate Spelling provides more than just spelling help. It is a complete educational resource that boosts all level of a child's literacy.
Containing a personal computer tutor, Ultimate Spelling is the most realistic step-by-step guide to flawless spelling ability.