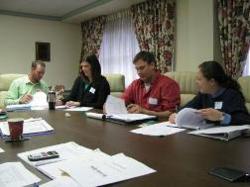 "AgBiz offers online and face-to-face meetings during the class session," says Sandy Wieber, VP of Marketing. "The face-to-face meetings offer participants the opportunity to network," adds Wieber.
Westminster, MD (PRWEB) September 04, 2012
AgBiz Masters, the nationally-recognized, award-winning learning series for young and beginning farmers, is pleased to open enrollment for its next class that will be held from November 2012 through March 2013. The program helps young and beginning farmers develop skills to ensure long term sustainability of their businesses.
The primary objective of AgBiz Masters is to deliver hands-on business and financial management training to young and beginning farmers. AgBiz Masters takes a blended learning approach where participants complete five online modules and attend several in-person, regional sessions during each year of the two-year program. Topics covered in the program include:
Year one

Megatrends of Agriculture
Strategic Business Planning
Preparing for Your Lender
Constructing a Balance Sheet
Constructing an Income Statement and Cash Flow Projection
Year two

Understanding Lending Decisions
Farm Business Management Factors and Benchmarks
Growth and Transition Management
Personal Financial Management
Communications, Ethics and Leadership
In its three years in existence, AgBiz Masters has reached more than 300 participants, including 103 graduates of the program. The program is primarily targeted at young and beginning farmers in Pennsylvania, Maryland, Delaware, Virginia and West Virginia.
AgBiz Masters is supported by MidAtlantic Farm Credit as well as a network of agricultural organizations. Program partners include AgChoice Farm Credit, Land O'Lakes, and Pennfield Dairy Profitability Team. The Center for Dairy Excellence and Pennsylvania Department of Agriculture are key funding partners for the program. Numerous other agricultural organizations are involved as marketing and resource supporters.
To learn more about AgBiz Masters and enroll online, visit http://www.AgBizMasters.com. The registration deadline is October 31, 2012. For more information, contact Raechel Sattazahn at rsattazahn(at)agchoice(dot)com or 800-349-3568 ext. 6016.
About MidAtlantic Farm Credit
MidAtlantic Farm Credit is an agricultural lending cooperative owned by its member‐borrowers. It provides farm loans for land, equipment, livestock and production; crop insurance; and rural home mortgages. The co‐op has over 10,500 members and approximately $2.3 billion in loans outstanding. MidAtlantic has branches serving Delaware, Maryland, Pennsylvania, Virginia and West Virginia. It is part of the national Farm Credit System, a network of financial cooperatives established in 1916 to provide a dependable source of credit to farmers and rural America.