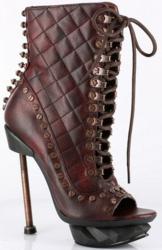 BURGUNDY ... The New Black!
Atlanta, GA (PRWEB) September 05, 2012
Everyone Loves Black! But, have you thought about a new color making waves this season? That color is Burgundy! Not only is this a hot new trend in clothing, but also in the most important of accessories, Shoes and Boots.
This color is seen on Cat Walks, Photo Shoots, Celebrity Events and favorite TV Shows.
If one is to stand out in the crowd, Shoes and Boots grab the attention. Make the footwear unique, and the spotlight is on!
Noticeably different are Steampunk and Fetish Wear. Not a new trend, but one that is making a name for itself. Not the heavy gears and pipes of old, but also sexy custom crafted metallic forms.
Put the two trends together and - Voila! Beauty, elegance, and trendy with a dangerously addictive sex appeal.
For more Fall fun, check out our Halloween Items. Many treats are available at Perennial Sales Halloween Costumes and Accessories including Special Shoes and Boots. There are countless ideas for headwear to footwear ensembles. Offered are not only pre-packaged items, but also many unique ideas to stimulate that creativeness within.
About Our Company:
Perennial Sales, LLC was Established in January 2001. We are an online retailer of Clubwear, Footwear and Accessories. We deal in mostly Leather, Vinyl and Wet Look. Come to us for Fetishwear, Dancewear, Goth, and other great styles.
We believe in fair play and ABOVE ALL honesty, integrity and straightforwardness. Our business philosophy is simple; we want the customer to be happy with all items and services received.
Kathi Hopkins - Owner
perennialsales(at)gmail(dot)com
770-751-0779
Web Site: http://www.perennialpassions.com