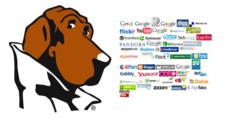 "With McGruff SafeGuard, I see what they are doing and I get notified when they push the boundaries we've set for them." - N.Linatser, Bedford, Mass
Fort Lauderdale, FL (PRWEB) September 04, 2012
As teens and tweens spend more and more time online on Facebook and other social networks, parents have lost their ability to stay on top of their children's online activities. Parents need to be aware of their teen's online life to keep them safe from cyberbullying, Internet predators and other online dangers. Today, McGruff SafeGuard announced a new release of McGruff SafeGuard for PCs that enables parents to monitor what their tweens and teens do on dozens of popular social networks.
McGruff SafeGuard intelligently monitors and records what teens post, chat or message about on Facebook, Twitter and many other top social networks. Once installed on a teen's PC, McGruff SafeGuard sends a text or email to the parent if it detects potentially dangerous activity.
McGruff SafeGuard is designed to show a parent not just where a teen goes on social networks, but what they do there and with whom they interact. It records all of the teen's online activities such as chats on Facebook, Google Talk, Skype and other social networks, as well as their email interactions on Gmail, Yahoo, Microsoft Live and others. Parents can visit the secure, parents-only, password-protected McGruff SafeGuard website to see what their child has been doing and restrict what they can do, if they so desire.
Monitoring for behaviors such as cyberbullying, loneliness, violence, sexuality, alcohol/drug usage or references, dangerous acronyms or being befriended by unknown individuals, McGruff SafeGuard analyzes a teen's online behavior and warns parents of suspect activity. It can even translate teen "chat-speak" lingo, such as acronyms like "LMIRL" ("let's meet in real life").
Parents can also view the websites their teen has visited, and control the types of websites they can visit. Block or allow content by topic, age or by creating a customized list of sites to block. Over 100 topics can be blocked including pornography, dating, violence, sex education, alcohol, drugs, gambling and many others.
McGruff SafeGuard provides these parental control features:
Records:
o Facebook and dozens of other social networks
o Chat/IM
o Email Sent and Received
o Messages / Comments / Photo Posts
o Captures Usernames and Passwords
o Searching and Googling
o Keystrokes Typed
o Programs Used
o Translates Chat Acronyms
Controls:
o Blocks Porn and Other Inappropriate websites
o PC Use and Time Limits
"I have two sons – a 13-year-old and a 10-year-old – and both spend at least 4 hours a day online," said Nelli Linatser, a parent living in Bedford, Mass. "With McGruff SafeGuard, I see what they are doing and I get notified when they push the boundaries we've set for them. I monitor their activity from my home PC, my work PC - even my iPhone."
"We've been helping tens of thousands of parents keep their children safe online for the past five years," said Marty Schultz, director of McGruff SafeGuard. "Listening to parents and incorporating their suggestions has helped us build a great product that improves teen and tween safety and gives parents control. Our latest version is focused on where teens spend so much of their time – on social networks."
McGruff SafeGuard is available for download at GoMcgruff.com as a 30-day free trial. Once the free trial is over, parents can continue monitoring a single PC for about $7/month, or all the PCs in their home for about $11/month.
About McGruff SafeGuard
McGruff SafeGuard provides parental control software for Windows PC, and a Child Safe Browser for the iPhone, iPad and iPod/Touch. McGruff SafeGuard is a licensee of the National Crime Prevention Council (NCPC). Our offices are located at 2941 West Cypress Creek Road, 2nd Floor, Fort Lauderdale, Florida 33309. To reach us please call (954) 607-7559, send email to info(at)gomcgruff(dot)com or visit us online at http://GoMcGruff.com.
About NCPC and McGruff the Crime Dog®
The National Crime Prevention Council (NCPC) is a private, nonprofit organization whose primary mission is to be the nation's leader in helping people keep themselves, their families, and their communities safe from crime. NCPC manages public service advertising under the National Citizens' Crime Prevention Campaign — symbolized by McGruff the Crime Dog® and his "Take A Bite Out Of Crime®" slogan — and acts as secretariat for the Crime Prevention Coalition of America, more than 400 national, federal, state, and local organizations representing thousands of constituents who are committed to preventing crime. NCPC is funded through a variety of government agencies, corporate and private foundations, and donations from private individuals.