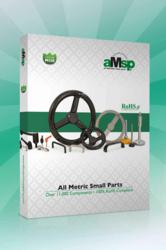 New Hyde Park, NY (PRWEB) September 08, 2012
A completely new easy-to-use, 640-page hardware catalog from All Metric Small Parts - aMsp features over 11,000 100% RoHS compliant components. The catalog, identified as M110, features a vastly expanded 141-page section of quality industrial leveling foot mounts. Of special interest is a series of clamping adjustable levers offered in a wide variety of colors to compliment specific applications. The products detailed include an expanded array of Metric: Handles, Handwheels, Cranks, Grips, Levers, Knobs, Latches, Locks, Catches, Hinges, Screws, Washers, Springs, Keys, Plungers, Pins, Leveling & Support Feet.
A highlight of the product line is that 3-D CAD models are available for download at the Web site. Section 1 of the catalog features over 470 handles available from stock in lockable and unlocked types in over a dozen materials ranging from stainless steel, aluminum, brass, nylon, die cast zinc, etc. Applications include: digital equipment, machine tools, distribution boards & panels and medical equipment. The catalog also offers a useful technical data section which includes: fractional and decimal inch & metric equivalents, standards for metric threads, isometric tolerance charts for shafts, holes, millimeter and inches, and material standards by symbol and material.
Detailed specifications are contained in catalog M110 available free upon request from All Metric Small Parts, 2101 Jericho Turnpike, New Hyde Park, NY 11042-5416. Phone: 516-302-0152
Fax: 516-302-0153 Web: http://www.allmetricsmallparts.com/press/CatalogM110.htm

Note to Editor: An electronic version of this release including a 300 D.P.I. at 3" wide .JPEG image can be downloaded at: http://www.allmetricsmallparts.com/press/CatalogM110.htm
aMsp1-29