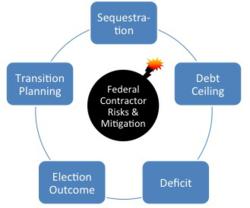 "The upcoming election and budget impasse are already having a negative impact on our government contractor clients."
- Gary Loyd, CEO
Chantilly, Virginia (PRWEB) September 04, 2012
Gary Loyd, CEO of Centurion Research Solutions, announced the release of a significant federal contractor knowledge white paper that answers the question, "With the beginning of a new fiscal year and the Presidential election on November 6, what will happen to the federal marketplace and what should a private sector company expect in terms of the pace and direction of its federal business."
The research paper explores the implications of five of significant factors and identifies several steps companies can take to mitigate and even take advantage of these budget risks.

Sequestration
Debt Ceiling
Deficit
Election Outcome
Transition Planning
This topic will be further explored at a free webinar on September 18.
About Centurion Research Solutions
Centurion Research Solutions, founded in 2003, is a business intelligence and analytics company with a simple mission: offer products and professional services that help federal contractors efficiently win more government business. To achieve this mission, Centurion has been providing online, subscription-based products, custom research and analysis, and in-depth training. Industry leaders such as Alion, Northrop Grumman, SAIC, Lockheed Martin, BAE Systems, InDyne, CACI and Raytheon rely on these products and expertise to help them identify, analyze and win more government contracts.