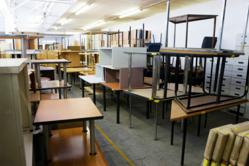 Etreev is a God send. We have saved thousands of dollars!
Manassas, VA (PRWEB) September 04, 2012
Non-profits depend on the generosity of individuals and corporations in order to function and serve others who are in need. A recent study by The Giving USA Foundation and the Center on Philanthropy at Indiana University, found giving to charitable organizations by American Individuals, found that corporations and foundations, was up 4% from 2010 to 2011. Even with the economy still shaky, it is important to continue the trend.
Etreev has recently participated in giving by donating used office furniture to local charities. "Both organizations were great to work with and they were very appreciative of the items they received," said Jim Joseph, owner of Etreev.
Etreev provides office furniture pick-up services to businesses with excess furniture and equipment. "We recognize the challenge that companies face when they are tasked with decommissioning furniture and equipment. Our process is simple and community friendly: we sell what we can, and donate the rest to our large network (currently over 400) of local charities," said Jim.
In the past several weeks, Etreev has been able to donate to two area non-profits.Phoenix Houses of the Mid-Atlantic in Arlington, VA received a truck load of file cabinets, desks, chairs, tables, bookshelves, and exercise equipment. "Etreev is a God send. We have saved thousands of dollars," said Joanne Gerald, Environmental Specialist of Phoenix Houses of the Mid-Atlantic. The organization is part of Phoenix Houses, the nation's leading provider of alcohol and drug abuse treatment and prevention.
The Adventist Community Services of Greater Washington in Silver Spring, MD helps disadvantaged and grief stricken in the community. They empower individuals by offering educational services. They were the recipient of 12 Dell computers, 2 LCD monitors, 12 key boards, 12 computer mice, 2 laser jet printers, 2 fax machines printers, 2 Color Inkjets, 8 Cannon printer toners, 2 Cisco network switches and 3 3COM network switches. "We are able to use the equipment from Etreev for our alternative school for immigrants, receiving technology training," said Kevin Ferguson, Education Specialist for ACSGW.
Etreev has a warehouse of used office furniture donations from area businesses wanting to help out charitable organizations in the area. Non-profits can go online to http://www.etreev.com and place a request for items.
"Storage is a big issue for us. Now, when we have un-needed office furniture, we can help out others by sending the items to Etreev," said Joanne.
For more information on this company, or to schedule an interview, please contact Jim Joseph (571) 220-2331, or email jim(at)etreev(dot)com.
Etreev is a local office furniture liquidator committed to saving customers, money, time and energy while helping the environment by making reuse easy. They serve the Northern Virginia, Maryland and DC area. Visit http://www.etreev.com.