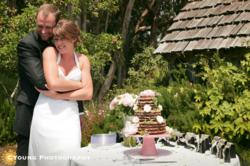 Mendocino Lovers' Sweepstakes sponsors handle your wedding details and cover the cost of most items.
Mendocino, CA (PRWEB) September 04, 2012
Today JB Tourism Media Group launched the Mendocino Lovers' Sweepstakes—and for couples planning their wedding this is a rare opportunity to win a free dream wedding on the breathtaking Mendocino coast. To enter the sweepstakes contest, and get the opportunity to win an all-inclusive wedding package and other prizes visit the Mendocino Lovers' Sweepstakes.
"The dream wedding give-away includes everything you need to make your marital vows unforgettable," according to Jean Bilolavek, the owner of JB Media Tourism Group and the sweepstakes sponsor. "The Mendocino Coast provides the ideal marriage setting—rugged sea cliffs, expansive ocean views, beautiful countryside—and we provide all of the important wedding services, " she added.
The Mendocino Lovers' Sweepstakes offers the winner a complete wedding package. Among other things, the Mendocino Coast Dream Wedding prize includes:

A wedding planner to organize your wedding and reception
A caterer to prepare a delicious wedding feast
A dream wedding at the [Mendocino Coast Botanical Gardens
A stay at the Sea Rock Inn or Agate Inn
" Organizing a wedding can take a year or more and can be very time consuming and expensive," said Bilolavek. "Those getting married will appreciate that we handle most of the wedding details and cover the cost of most items." The fantasy marriage package even includes uniquely-designed wedding rings, a makeover for the bride and female guests and a wedding photographer, Bilolavek added.
Bilolavek believes the Mendocino Coast Botanical Gardens is an ideal location for a romantic dream wedding, a perfect place for dancing outside under the stars after your catered wedding feast and before the cake-cutting ceremony. "Wedding guests often say that the cake-cutting ritual is what they remember most about a wedding," Bilolavek said. "Like the rest of the ceremony, it takes place in an idyllic setting."
Bilolavek understands that by having that wedding details arranged and paid for helps couples be more present for this special time in their lives. This is why a wedding planner is included in the wedding give-away. The dream wedding prize winner will work with Linda Mahchilas, an expert in fashioning signature weddings and owner of Blue Moon Signature Weddings & Events.
"I will work with you, and for you, to create a day you will always remember," said Mahchilas. Her company helps the impending bride and groom with wedding-day itinerary: questions for marriage vendors, budgeting and timeline guides and assistance with nuptial rehearsals and wedding ceremony management, among other things.
In addition to the Dream Wedding give-away, other grand prize packages are available by entering the Mendocino Lovers' Sweepstakes: an outdoor adventure promotion, a cultural and creative arts give away, a shopping spree and spa package, a food-wine tasting tour, and a chance to win $25,000 in cash. All sweepstakes packages include dinner and lodging.
Weekly prizes will also be awarded leading up to the sweepstakes grand prize announcement, such as dinner at first-rate restaurants, luxury stay at inns, exciting outdoor adventures and much more.
Bilolavek said that the sweepstakes contest offers couples getting married "a special Mendocino experience" with all the county's charm and natural beauty. "A fall wedding on the Mendocino Coast is truly spectacular with the colors in bloom" Bilolavek added. "Getting married on the Mendocino Coast—there is really nothing like it."
Get started on your Mendocino Dream Wedding today! Enter the Mendocino Lover's Sweepstakes at http://www.mendocinocountylovers-sweepstakes.com/ to win your dream wedding and a chance to win other fabulous prizes.
Contact: Mendocino Lovers' Sweepstakes
info(at)mendocinovisitors(dot)com
Ph: 415.488.1285
###