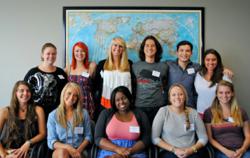 Whether they are 20 years into their careers or newly returned from studying abroad, we want to get our alumni involved. That's why we've structured our program so it offers something for everyone. - Melissa Stanton, marketing manager
Denver, CO (PRWEB) September 05, 2012
GlobaLinks Learning Abroad, a provider of international education programs across the globe promoting academic, cultural, personal, professional and social discovery, today announced expanded offerings from its GlobaLinks Learning Abroad Alumni Association, including leadership positions, new ways to get involved in study abroad on campus, travel vouchers and other incentives for serving as ambassadors.
"Our expanded GlobaLinks Learning Abroad Alumni Association connects our 26,000-and-counting alumni members in exciting and creative ways so they can share and sustain their love of study abroad," said Cynthia Banks, executive director and president. "The expansion of our program provides multiple ways for our alumni to plug into the networks they've developed through international education."
The GlobaLinks Learning Abroad Alumni Association features four avenues of involvement:
Alumni Association general membership - The 26,000+ members from all GlobaLinks Learning Abroad programs are automatically considered members of the Alumni Association upon program completion. Benefits include the opportunity to network with other alumni, support for re-entry and reverse culture shock, monthly newsletters, photo contests, and the chance to help steer the organization's future through program evaluations.
Street Team – Alumni across the U.S. and Canada are encouraged to get involved on their campuses by promoting study abroad to their peers. Street Team members encourage study abroad in a number of ways, including speaking in classrooms, putting on presentations for student groups, attending study abroad fairs, and more. For each completed campus activity, participants earn a chance to win a travel voucher for a trip of their choosing.
Alumni Ambassadors – A group of at least 10 outstanding alumni are selected by GlobaLinks Learning Abroad to serve as ambassadors on their campuses. The 10-hour monthly commitment lasts from August – May and includes attending study abroad fairs, hosting information tables, blogging, presenting on study abroad to classes and meeting with organizations on campus. Benefits include airfare/transportation, accommodations and some meals during a trip in August to Denver for Alumni Ambassador training, resume-building professional development, and a travel voucher toward airline travel of their choice.
Alumna/Alumnus of the Year, Association President, Association Vice President – Each year, GlobaLinks Learning Abroad selects a program participant as its Alumna/Alumnus of the Year. To apply, individuals write essays and create videos. A winner and runner up are selected based on how well they demonstrate their desire to build a career in international education. With the expanded alumni program, the alumni award winners may also be selected to serve as president and vice president of the Alumni Association. Benefits include expenses to travel and participate in the annual NAFSA: Association of International Educators Association conference (alumni winner only), professional networking opportunities, Alumni Ambassador training in Denver, and career development support.
After serving students for more than two decades, GlobaLinks Learning Abroad has alumni all over the world, at many different universities, and working in a wide variety of careers, said Melissa Stanton, marketing manager in charge of the GlobaLinks Learning Abroad Alumni Association.
"Our alumni program is designed to appeal to all of our alumni audiences," Stanton said. "Whether they are 20 years into their careers or newly returned from studying abroad, we want to get our alumni involved. That's why we've structured our program so it offers something for everyone."
GlobaLinks Learning Abroad also announced its 2012 Alumni Ambassadors, who received their training in Colorado last month. They are:
Ann Bishop, Colorado State University
Karen Cowles, Plymouth State University
Megan Donnelly, University of Rhode Island
Molly Dupuis, Carthage College (VP of Alumni Association)
Brickland Easton, Texas Tech Rawls College of Business
Alex Ferraro, University of South Carolina
Ashley Heim, University of New Hampshire
Ryan Holway, University of Colorado - Boulder
Javahnda Kea, Georgia State University (Alumna of Year and President of Alumni Association);
Kati Keenan, Miami University of Ohio
Jarrett Lucero, Clemson University Colleen Murphy, Rowan University
The benefits of networking with fellow alumni can't be emphasized enough, said Javahnda Kea, Alumni Association president and the 2012 Alumna of the Year.
"We now live in a global environment," Kea said. "The people you meet during your time abroad can become great resources in a variety of future endeavors. In fact, I now have friends from all over the world, new destinations to visit, and great career opportunities available, which would not have been possible had I not chosen to study abroad."
For more information, visit the GlobaLinks Learning Abroad Alumni Association page.
About GlobaLinks Learning Abroad:
GlobaLinks Learning Abroad is a leading provider of education abroad and internship programs for college-level students in destinations across the globe. Students from more than 800 universities and colleges across North America choose to study and intern with GlobaLinks Learning Abroad each year in destinations in the Pacific Region (Australia, New Zealand, and Fiji), in Asia, Hong Kong, Japan, Malaysia, Singapore, South Korea and Thailand) and Europe (Czech Republic, England, France, Germany, Greece, Scotland, Spain, Wales, Ireland, Italy and the Netherlands.) Since it was founded in 1990, GlobaLinks Learning Abroad has sent more than 26,000 students on educational programs worldwide. For more information, visit http://www.GlobaLinksAbroad.org.