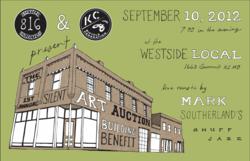 The bike collective is a sustainable network which i have been proud to watch expand every year. I support this organization whose foundation and mission is based in education, communal connection.
Maria Calderon, Artist
Kansas City, MO (PRWEB) September 05, 2012
On Monday, September 10, 2012 the 816 Bicycle Collective and local artists are teaming up with The Westside Local for an auction to benefit The 816 Bicycle Collective. This 1st Annual Silent Art Auction and Building Benefit will not only support the programs of the 816 collective but proceeds will go to its capitol campaign to rehabilitate their headquarters.
Local artist Micah Lidberg states, "Since I moved back to Kansas City, I've wanted to get involved with the community here. I donated my work not only because many of my friends are involved with the 816 Bike Collective, but because it's an organization that integrates and supports the community." Many artists have donated work to support The 816 Bike Collectives campaign, in fact over 35 artists are participating in the show.
The opening reception and silent auction will be on Monday, September 10th. However, donated work will be on display at the restaurant during the entire month of September. All work that is not sold at the auction will be priced at the artist's estimated value for the month of September at The Westside Local. Bidders can preview the work of the auction at the 818 Bicycle Collective at the 816 Bicycle Collective Website.
The money raised from the auction will be used to revitalize three buildings that The 816 Bicycle Collective purchased at the county delinquent tax auction. The buildings, once completed, will be used to create a hub of bicycle and pedestrian advocacy and activity in the Kansas City area. The buildings will expand the current 816 Bicycle Collective workshop, to include office space for other bicycle and community advocacy groups, and to foster the development of like-minded projects.
The Kansas City Bicycle Federation and The 816 Collective plan to function as a facilitator, and guide for promoting bicycle related activities and businesses in the Kansas City region. These partner organizations aim to be a model for other groups and neighborhoods who want to have long-term community impact and create social capital. By encouraging these groups to see the need for rehabilitation of existing structures in blighted areas they hope to create an example of sustainable development.
###
The 816 Bicycle Collective is the community recycled bike shop of the Kansas City Bicycle Federation, a registered 501c3 non-profit advocacy organization. The Collective is a collective of individuals from diverse backgrounds working on a volunteer basis to rescue & repair bicycles. The Collective believes in empowerment through education and support the use of bicycles as a healthy & ecological means of transportation.