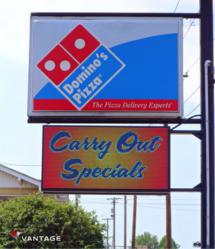 "We looked at all the options & manufacturers out there & tried a few before deciding to partner with Vantage LED. Vantage LED's quality, easy-to-use software, competitive pricing & knowledgeable staff were a winning choice for us."
Mount Vernon, IL (PRWEB) September 05, 2012
Todd Ham, President of T. Ham Sign Inc., entered the custom sign business with the goal of building long term relationships with his clients and ensuring they received the best experience possible when going from a concept through to completion on a project. His goal was to be more than a source for signage, but a resource for his clients' success. Among the two other LED Sign brands they offer, T. Ham Sign has found Vantage LED to be high quality with intuitive software to drive their clients' signage into the 21st century.
With over 20 years in the business, Todd Ham has seen a lot of change. Realizing Programmable LED Signs could help businesses see 15%-150% growth, he knew sourcing the best option available was a key to the successful growth of a business. He and John Dungan, Sales rep for T. Ham Sign Inc., worked carefully to source the right solution.
"We looked at all the options and manufacturers out there and tried a few before deciding to partner with Vantage LED. Vantage LED's quality, easy-to-use software, competitive pricing and knowledgeable staff were a winning choice for us," answered Mr. Dungan when asked why they chose Vantage LED over competing manufacturers.
Mr. Dungan went on to state, "The facility in Corona, CA was impressive and everyone in the company is enthusiastic about the product and delivering the best solution for our customers. The software is intuitive and innovative and there's a real team atmosphere. The future plans of the company showed us how Vantage LED is innovating and working to bring the industry forward."
T. Ham Sign Inc. looks to the future for their clients' needs and wanted to be certain the clients were getting a solution which wasn't only the best choice for now, but for years to come. In a market flooded with competition, it was important for Todd Ham to select a partner who really stood out in the market and would work to ensure their customers' signs looked the best possible.
"Vantage LED's LightSpeed Media software is definitely, by far, the easiest-to-use which we've come across. The software does it all. When I sat down with our customer after the first installation he stated, 'This isn't hard at all!' which was a surprise to him as we've seen a lot of software and were expecting a steep learning curve. If it doesn't program easily, the board isn't going to look good. The ability to manipulate content quickly and easily was a big selling point," said Mr. Dungan.
T. Ham Sign Inc. believes Vantage LED is taking the lead and the competition is going to have to work harder to match what they're currently offering. Vantage LED matches their desire and ambition to be the best and most competitive in the market. T. Ham Sign Inc. was most impressed with Vantage LED's desire to provide an excellent product and service. Together, they're moving forward to build a brighter future for business.