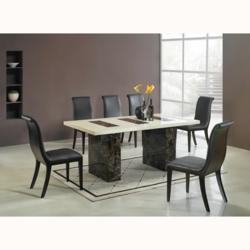 FurnitureInFashion Launches New Marble Range "Madeira" in its dining room furniture collection
(PRWEB UK) 9 September 2012
FurnitureInFashion is pleased to launch new marble furniture range Madeira n its already extensive dining room furniture collection. The marble collection is another beautiful range comprising of dining table, console table, table lamp and coffee table. This collection will add more depth to the unique and exquisite collection of dining room furniture at FurnitureInFashion. The Madeira marble range is now available at the showroom in Bolton and online as well. The owner and Managing Director of FurnitureInFashion Asad Shamim said,
"FurnitureInFashion is always working towards launching something unique for its customers. With the increase in demand of stones, FurnitureInFashion followed the trend and launched this beautiful Madeira range with a complete solution for a dining room. We are offering eye catching Madeira furniture for dining room with the most comfortable and eye catching designs."
FurnitureInFashion has launched Madeira marble coffee table, marble console table, marble dining set with 6 Reno chairs and marble lamp table. Madeira marble coffee table is something extremely new and versatile that can be added in a dining room or living room furniture collection to make a style statement. It is an elegant and attractive marble coffee table with exquisite solid marble top. It has a stylish and modern combination of cream and brown marble colors to create a unique look. It is a unique, sturdy, stylish and natural contemporary piece which is perfect for any living or dining room. Mr. Shamim said, "Coffee tables are usually meant for living rooms but our Madeira range of marble coffee tables is perfect for dining room as well. You can make a unique dining room ambience by providing extra place to display items or attend guests."
For bringing style and luxury dining experience, the Madeira range offers Madeira marble dining set. This dining set comes with 6 Reno brown chairs. The dining table is a unique combination of modern and cream brown marble. The solid real marble has been crafted into rectangular shape which is supported by two marble supports. The marble supports are in black color and are designed to provide maximum stability to the dining table. This exquisite piece is also highlighted by 3 brown marble marks on the table top. This amalgamation of colors and designs make this dining table a style statement in any dining room. The 6 Reno chairs are very stylish with cushioned seat and back for the most comfortable and relaxing dining experience.
The eye catching and comfortable Reno dining chairs have dark wood legs to provide support. Mr. Shamim said, "The best feature of Madeira dining table is that it can settle with any décor such as contemporary, modern or traditional. Its slander structure makes it a perfect addition to even a small dining room."
Another marvelous piece by Madeira is an elegant and attractive marble lamp table. The exquisite brown and cream marble lamp table can displayed at the corners of dining room for innovative lighting and style. It is a strong lamp table with black marble support to give stability and support. Stylish combination of brown and cream colors creates a unique, natural and sturdy lamp table. One of the most marvelous products in Madeira marble range is marble console table which can be used for displaying decorative items or serve guests. It is a unique combination of solid marble finish in brown and cream top. The top of table is rectangular in shape with brown marble column support. The Madeira range is definitely a great addition to any living room.
About FurnitureInFashion
FurnitureInFashion is a UK based online retail business. It supplies furniture items from its German based warehouse and has a showroom in Bolton, UK. The company provides everything from umbrella stand wall art and room dividers to bedroom, bar stools and computer tables. FurnitureInFashion offers excellent free delivery within UK and has a fantastic customer service as well. For further information and details about the sale, visit http://www.furnitureinfashion.net