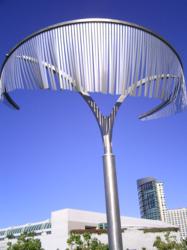 ...a sculptural object is a sculptural object – whether it's a city plaza or a wedding ring! The thing that makes it architecture is having a well-defined process surrounding and supporting the definition...
Milwaukee, WI (PRWEB) September 12, 2012
What happens when the discipline applied by construction project managers finds its way into collaboration with sculptors and other artists? According to Frank Berry, an engineer who has worked with many artists over the years, many good things can happen! AFX Marketing Director, Mike Quill, sat down with Frank to explore this topic and get Frank's take on the techniques that have been well-established in "the built world" and how they can be applied to advantage in the realm of public art. This is the first installment of a series.
MQ: Tell me a little about your professional background.
FB: I design and build power sources for buildings, custom electronic business signage and public art sculpture. My degree is in mechanical engineering.
MQ: What is your position?
FB: I contract with the AFX Division of Sign Effectz, Inc. I'm also the owner of a company called Artifacts. I'm the engineer that collaborates on complex public art projects.
MQ: What does AFX's methodology bring to the decision-making process used by artists?
FB: The key thing is time-phased control (ie., revision control) of the project details from start to finish, front to back.. This practice supports cost control, timely material procurement and good communication among the project's stakeholders.
The hard part of any "built world" project is teasing out the requirements; doing fulfillment on them and elaborating them in a clear, concise, organized and "standard" manner. In the planning business, we call this "U+A"; obtaining every stakeholder's understanding and agreement that the requirements of the project are real, important, and able to be fulfilled within schedule, and budget.
"Requirements U+A" requires good communication. In "the built world" there is an ever-broadening cast of characters to be included in the "U+A" process. For example, there are construction managers that hope to have oversight on myriad project details. There are planners who hope to fold many of the "as built" aspects of the project into a BIM, "Building Info Management System"; and need to know the mapping between defined requirements and features to "get the information right"!
MQ: What do you see in terms of trends in this area of collaboration between artists and "the built world"?
FB: The key to process control is communication. The trend, if there is one, is that there is an excruciating amount of planning going on, in ever-rising detail; and that sculpture, in order to collaborate in the world of architecture, has to be defined by a rigorous process.
There is a chicken and egg to this notion of "rigor". If it turned out that it was well understood that everyone - from artists building wearable sculpture, like "jewelers" to artists who manipulate environmental features in public spaces - published good plans and executed faithfully to those plans, we wouldn't be having this conversation.
One key to project communication is the successive publication of responses to change: i.e. revision control. In the world of art, sculptors are responsible for the visual aesthetic. Artists often feel they can change aesthetics until they "have the look right". But you can't build "expected" things without revision control – as many of the changes might influence other details of schedule, budget, requirements, understanding, agreement, and execution!
MQ: Why is this topic important at this time?
FB: There are rules, regulations, plans and costs. Process control requirements have always been there, even going back centuries, to geniuses like Filippo Brunelleschi(born in 1377, one of the foremost architects and engineers of the Italian Renaissance). We just haven't always acknowledged them in the world of sculpture. If sculptors and architects are going to "build" together, artists are going to have to salute the planning process: understand it and embrace it.
Folks from the building community may impose the cost of practices like phased, controlled documentation upon an artist as part of the rigors of doing the job. At the end of the day, a sculptural object is a sculptural object – whether it's a city plaza or a wedding ring! The thing that makes it architecture is having a well-defined process surrounding and supporting the definition, project basis, and execution -- of the sculptural object.
MQ: Do you feel like you have positively affected the art scene? How so?
FB: AFX has a clear mission: we try to maintain the visual aesthetic in the face of overwhelming constraints imposed by rules, regulations, plans, and costs. AFX strives to be one of a few firms that are ART enablers in a process-specific world.
MQ: What are you doing that other, similar companies are not?
FB: It's more like what we aren't doing and others are. What other companies may be doing; and what I've heard from artists, is that they compromise, or even "surrender" the visual aesthetic in order to meet the constraints. That is what artists do not want.
About the company: AFX provides architects, artists and designers with the engineering, materials, and methods needed to fabricate and install "creative architectural objects", like kinetic sculpture, active facades and ornamental building components. For more information on the subject of this interview or on the company, please go to http://www.afxdivision.com or call (414) 264-5504.