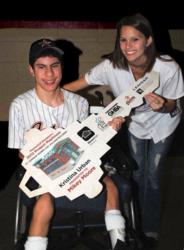 To be a winner of this HomeAid fundraiser is exciting on a personal level, just knowing that the funds raised help the homeless. - Kristina Urban
Houston, Texas (PRWEB) September 06, 2012
At the August 19th Astros vs. Diamondbacks game, two of the biggest winners were not on the field that day. One was named Kristina, and the other was Mikey; neither are part of a professional baseball team, but they are definitely part of something big.
During the 7th inning, the winning ticket was drawn for HomeAid Houston's Project Playhouse, the charity's annual fundraiser. HomeAid builds transitional housing for Houston's homeless. From the over 5,000 tickets sold, the winning ticket was Kristina Urban from Cypress, Texas. Kristina, a sophomore at a local community college, was contacted by HomeAid the day of the announcement. "I was so happy when I got the call that I had won," said Kristina. "To be a winner of this HomeAid fundraiser is exciting on a personal level, just knowing that the funds raised help the homeless. But as a college student, I also knew that I wanted to donate the playhouse to someone who will enjoy every aspect of it on a daily basis. "
This is where Mikey comes in. Mikey Moore is a 14-year-old, diehard Astros fan. He is a five-year veteran of the Astros Buddy Program, and he and his family are season ticket holders. Mikey has also been dreaming of winning HomeAid's Project Playhouse for five years. What makes Mikey so special, among many other things, is that he is mentally delayed and wheelchair bound. But that doesn't hold him back. Mikey plays Little League Challengers Baseball for the Astros Red team.
Immediately after Kristina learned she had won, she worked through HomeAid and her church to identify someone she wanted to have the playhouse. Kristina was touched by Mikey and his enthusiasm and love for the sport and his Astros. During the on-field pre-game festivities at Minute Maid Park on Wednesday, August 29, the ceremonial key for Project Playhouse was presented to Mikey as a surprise. "Mikey is going to be so shocked that he is getting the playhouse," said Cathy Moore, Mikey's mother, before the presentation. "When Kristina called to say she wanted him to have it, I was speechless. This is a true blessing that will be a huge part of our lives every single day. We cannot thank Kristina enough for making this happen."
The playhouse, a miniature replica of the ballpark known as the "Minute Maid Playhouse," was designed and built with donated materials and labor by Lennar/Village Builders and their donors. It is fully loaded, with features such as an X-Box 360 with Kinect, an electric train with tracks that circle the ceiling, rope lighting, a 32" flat-screen TV, a mini refrigerator, an iPod and docking station and air conditioning. The interior of the playhouse captures several elements of the actual Minute Maid stadium with a painted mural of seated fans, a flooring application that replicates the field and furniture and memorabilia that relates to baseball and the Astros.
HomeAid Houston, a Greater Houston Builders Association charity, teams each year with the Houston Astros for this fundraiser. Lennar/Village Builders all-stars who led the team were Cindy Hinson, Casey Judkins, Marco Cordon, Brandon Ross, Ken Boysen, Jeff Lee, Sam Teuton and Tim Gregory.
"Kristina Urban has touched all of us at HomeAid and Lennar/Village Builders with her generosity and thoughtfulness in her desire to donate the Minute Maid Playhouse to a worthy recipient," said Mark Welch, president of HomeAid Houston. "She showed tremendous poise and grace as she worked through her decision."
Since 2003, HomeAid Houston has completed 16 projects, adding $7.4 million of real estate to Houston's homeless community.
For more information on Project Playhouse or HomeAid Houston visit http://www.homeaidhouston.org.