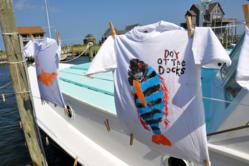 Come celebrate Hatteras Island's living heritage along one of North Carolina's few remaining working waterfronts.
Hatteras, NC (PRWEB) September 05, 2012
Take a drive into the heart and soul of the Outer Banks. An iconic two-lane road, NC 12, stretches from one end of Hatteras Island to the other, connecting the Cape Hatteras National Seashore and seven distinct villages. One trip and you'll realize, though, the connection isn't asphalt. Hatteras' kinship with nature is intertwined like a fisherman's net; generations of livelihoods and experiences shaped by wind and water. OuterBanks.org
DAY AT THE DOCKS
Previously a one-day annual event, Day at the Docks now extends the celebration of Hatteras Island watermen to a four-day extravaganza, September 13- 16, 2012. "Come celebrate Hatteras Island's living heritage along one of North Carolina's few remaining working waterfronts," explains event coordinator Lynne Foster. The title event will be Saturday, September 15th, from 10 a.m. to 5 p.m. in Hatteras village. "The free event celebrates the working traditions of the waterfront with seafood cooking demonstrations, fishing boat and gear displays, fishing industry skills contests and competitions, local seafood cooking competitions, music, author readings, a chowder cook-off contest, and plenty of activities for children." The day will conclude with a Blessing of the Fleet and a lawn dance with live music. DayAtTheDocks.org
Talk of the Villages
"Fishermen, Fish, Food and Livelihood" will kick off the week's event roster with a free open forum on today's current commercial fishing industry, Thursday, September 13th, panelists from Massachusetts, Louisiana, Texas and Oregon and Alaska will talk about the major threats to the marine environment and to family-owned and family-operated fishing businesses in their homeports and how communities have coped with these threats.
Sons of the Pioneers
Enjoy the Graveyard of the Atlantic Museum's new exhibit, "Hooks, Lines and Hatteras: Charter Fishing on the Outer Banks" where you will see historic tackle and gear including photos and documents from the earliest years. On Friday, September 14th, you can meet the sons of the men who pioneered charter fishing on the North Carolina coast and launched a new industry.
Seafood Throwdown at Day at the Docks
Chefs from two of Hatteras Island's most popular restaurants will square off in a cooking competition for rights of pride at 3 pm on Saturday, September 15th, Forrest Paddock of Café Pamlico in Buxton will engage Seth Foutz from Ketch 55 Seafood Grill in Avon at Hatteras village's Day at the Docks cooking arena. Paddock and Foutz will have one hour to prepare dishes using a local seafood ingredient that will be revealed only when the competition starts.
Shrimp 'n Grits
A favorite meal of the Carolinas, Shrimp and Grits underwent a transformation as it moved up the coast from its origins in South Carolina's Low Country. On Sunday, September 16th, North Carolina food journalist and author, Elizabeth Wiegand will regale you with the fascinating story of this quintessential southern coastal fare that has become a staple on the menus of fine restaurants throughout the mainland south as well as on the barrier islands.
A full calendar and description of daily events can be found at DayAtTheDocks.org. For more information, you are invited to call event coordinator Lynne Foster at 252.619.0136 or email her at heronsmarsh (at) gmail (dot) com