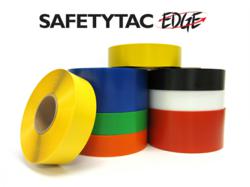 "Since using SafetyTac's floor tape, our productivity has increased by 10%. We have fewer accidents due to visually marked hazard areas."
Lake Oswego, OR (PRWEB) September 01, 2012
Industrial and manufacturing facilities seek out floor marking tape that will withstand heavy industrial traffic. No need to look any further as SafetyTac.com is now offering a new product that is the ultimate floor tape for all floor marking requirements under OSHA floor markings standards. SafetyTac Edge can hold up to most forklift and tow motors turning their wheels on it and dragging things across it. The product is highly impact resistant due to the very dense material it is made out of. The adhesive is super strong and does not leave any residue. SafetyTac.com offers this product in 7 colors and it is available in 2"x100' and 4"x100' rolls. Additional features include low profile and double tapered edges.
Facilities around the nation are excited to know there is another alternative besides paint when it comes to marking floors. Companies can be assured they are in compliance with OSHA floor marking standards when using SafetyTac's floor marking tapes. SafetyTac offers a free copy of OSHA floor marking standard guide that will help on the size and color that is required by OSHA and ANSI. Companies cannot go wrong when using this guide to make the correct choices for their required needs. It is important that companies ensure the safety of the workers, and also those who are visiting the facility. Floor marking tapes are utilized to keep people safe and in the correct areas. Safety numbers will increase and missed unproductive days will decrease by the use of marking hazardous areas. Safety coordinator, John Wanous, commented, "Since using SafetyTac's floor tape, our productivity has increased by 10%. We have fewer accidents due to visually marked hazard areas."
For more detailed information about floor marking tapes, visit http://www.safetytac.com or call toll-free (888)246-6770 to get all your questions answered by friendly, experienced personnel.