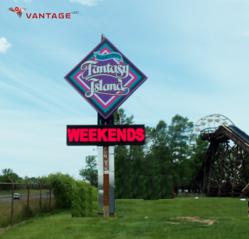 "A lot of companies just don't offer the same level of support and high quality production we see with Vantage LED."
Buffalo, NY (PRWEB) September 10, 2012
With the newest installation at Martin's Fantasy Island, a premiere yet cost-conscious family amusement park in Grand Island New York, NAS Sign Co. provides a balanced blend of traditional signage and new technology solutions for their customers. Integrating LED signage blended with interior illuminated signage gives businesses the ability to quickly and easily communicate with the community.
Over the years, Paul Strada (owner of NAS Sign Co) has seen a lot of change in the industry, but has held on to traditional values while integrating new technologies into the sign systems. Early on, Strada saw the promise of LED technology and moved away from neon to focus on integrating low-energy, high-return LEDs into custom sign solutions. As he looked to the various options new technologies offered businesses, Strada hired a long-time friend Paul Fadale, a specialist with regard to innovative signage solutions, to help him out.
Fadale saw the tremendous potential of Digital Signage to help grow local business and support the community. The systems give businesses the ability to take advantage of the technology with PSAs (public service announcements) and to spread news about local events and information. The key element was finding the best strategic partner to ensure successful solutions were implemented for their customers. Fadale stated, "We've tried all the rest before finding the best balance of quality and price that Vantage LED had to offer. A lot of companies just don't offer the same level of support and high quality production we see with Vantage LED."
Having worked closely with many customers over the years, Fadale has found the LightSpeed Media Software to be the biggest win for the customers, "The ease-of-use for the software was a big selling point for us. Businesses need to be able to change messages quickly and easily so they can focus on their business, not on their sign. Vantage LED was able to meet unique requests like having everything stored locally on the sign controller so customers have quick access to content and don't have to worry about software on their PCs in the business."
Quick access is a keystone of NAS Sign Company's business model. While many companies can take up to two weeks to help a customer take an idea from concept to quote. Fadale, often referred to as the "fastest quote in the east," prefers to make sure customers receive service quickly. Fadale was on-site at Martin's Fantasy island within two hours of the initial call and had a quote with concept drawings and information for the customer ready the next day. Fadale stated, "If a company can't respond quickly on a request for quote, how quickly do you think they'll respond to a request for service? We aim to be the best and fastest all around." NAS Sign Co. works closely with Vantage LED to ensure expedited delivery on their customers digital signage requests. Not only are they able to deliver a fast quote, but NAS Sign Co. is also able to quickly deliver the completed system in record time, all because of their belief in prompt service for their clients.
Being the fastest isn't the only part of being the best, NAS Sign Co also believes in staying active with local outreach. They are a heavy supporter of their community. Just recently they've committed to manufacture hundreds of signs for charity golf events and actively contribute to youth sports teams. Fadale stated, "Most of my customers are referrals. We believe you get back from the community what you put in."
The finished installation went through quickly and smoothly and the sign is already hard at work communicating timely information to the community. WIth over 22 Vantage LED installations in place since 2011 and more to come, businesses like Martin's Fantasy Island and local communities are reaping the rewards of the new technology. NAS Sign Co. is constantly looking to the future of signage and with the blending of Programmable LED displays with custom signage, the future has never looked brighter.