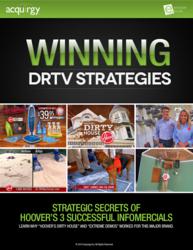 We've broken a lot of new ground with Hoover's Dirty house and the three shows that have elements of a DIY reality show.
St. Petersburg, FL (PRWEB) September 07, 2012
Winning DRTV Strategies -- Hoover, a new eBook, explains the strategies behind extreme demonstrations, the world's dirtiest house, "cringe factors" and a TV-like reality show that are powering sales of three Hoover cleaning machines via infomercials produced by acquisition marketing agency acquirgy. Sales of the MAXExtract® 60 Carpet Washer, the TwinTank® steam mop and the WindTunnel® Air™ are meeting goals for sales direct-to-consumer via phone and online, and at retail.
"We've broken a lot of new ground with Hoover's Dirty house and the three shows that have elements of a DIY reality show, and the Winning DRTV Strategies – Hoover eBook shares our thought process behind the development of these winners," said acquirgy President Steven Morvay.
This eBook is part of series of eBooks from acquirgy, and author Irv Brechner has also created the Customer Acquisition IntelCenter, which has another 75+ papers, briefs, articles and thought leadership content (http://R3F.acquirgy.net). This eBook is one of 6 current eBook titles in the Customer Acquisition eBook library (http://LB11.acquirgy.net).
This first eBook in the Winning DRTV Strategies series is laden with over 100 screen shots that clearly illustrate the "how" and "why" behind the three shows. Also included are links to the shows and related content.
"This ebook is written for manufacturers of consumer products and service providers who are considering using DRTV, in RFP mode, or are currently using DRTV but not experiencing stellar results. It's also for marketing people who are trying to convince their CEOs that DRTV is right for their products," added Brechner, addressing a need to overcome the schlocky stigma of late night infomercials.
"We see the DRTV industry headed in a direction that is ideal for manufacturers that have retail or dealer distribution. One of the 20 categories is what we call the Retail Distribution Model, which is a breakthrough process that enables DRTV to power both direct-to-consumer and retail sales in a ROI focused model," added Morvay.
The 37 page eBook covers acquirgy's strategic rationale behind the core theme across all the shows, extreme demos, the "cringe factor," purposeful exaggeration, testimonials, conquering the competition and more. A free instant download is available at: http://W1B.acquirgy.net.
About Acquirgy
Acquirgy (http://www.acquirgy.com) is an Acquisition Marketing Agency developing and executing accountable marketing programs driven by immediate and measurable response metrics across all digital and traditional platforms. Proprietary tracking systems integrate all transactional media, logistic and response data from all platforms to optimize client profitability.