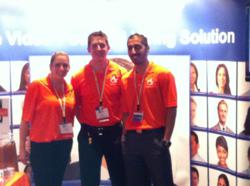 "Our goal will be to educate the attendees on the benefits of integrating video into their screening and interviewing process." - Josh Tolan, CEO of Spark Hire
Chicago, Illinois (PRWEB) September 04, 2012
Spark Hire (http://www.SparkHire.com), fresh off a successful trip to the HR Florida Conference and Expo, will be taking its innovative video interviewing platform to the 2012 Fall ERE Expo held at the Westin Diplomat Resort & Spa in Hollywood, FL on September 6th and 7th.
"We are really excited about showcasing Spark Hire's video interviewing capabilities at our first ERE event," said Josh Tolan, CEO of Spark Hire. "Our goal will be to educate the attendees on the benefits of integrating video into their screening and interviewing process and how this integration can help companies of all sizes make smarter decisions in their hiring processes."
Spark Hire will be located at Booth #310 and will feature video demonstrations including:
•Spotlight Interviews: Employers can send a series of questions to candidates who respond with video answers. These interviews can be watched by the employer at their convenience.
•Live Interviews: Employers can connect face-to-face with job seekers using their webcam. These live video interviews are even recorded and available for playback.
Spark Hire will also be raffling away gifts such as t-shirts, coffee mugs, and even free iPads! Be sure to stop by to watch one of the demonstrations for your chance to win one of these great prizes!
About Spark Hire:
Spark Hire is a video powered hiring network that connects job seekers and employers through video resumes and online interviews. By integrating video screening and video interviewing into the hiring process, Spark Hire bridges the gap from the initial application to the final hiring decision by providing job seekers with a better way to stand out and employers with a more efficient way to identify top candidates. For more information, please visit SparkHire.com.
About ERE Expo:
ERE Expo is the largest attended independent recruiting event. Over 800 corporate recruiting leaders attend ERE Expo each year, and that is in addition to hundreds of other attendees from industry consultants, vendors, service providers, media and others. This is an event for corporate recruiting professionals to share new ideas that simply weren't being discussed anywhere else in the establishment. For more information, please visit http://www.ereexpo.com/2012fall.