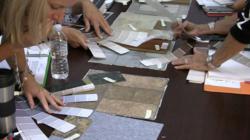 Hands-on personal training out in the field is the only way to go. I learned so much - thank-you!
(PRWEB) September 19, 2012
Seattle WA, Pam Christensen, Owner and Founder of Staging for Charisma, has joined The Academy of Home Staging and will be offering her first Advanced Certification class from October 8th through October 12th in Seattle Washington. Pam started her staging company in 2007 just as the market crashed, and despite the odds stacked against her, has built a thriving and successful staging business.
"Staging vacant homes is the majority of my business, but there are so many other services that can be added to help your business be highly successful" said Pam. "Staging opened up the exciting world of radio, and I now have a regular talk show the first and third Wednesday of the month on 1150 AM KKNW as an expert host on the "Chat with Women Network". My company tripled last year and we are well on the way to doubling again this year".
"I leveraged my skills as a corporate executive, a senior IT consultant and a speaker and trainer to help build my business and I am so excited about the opportunity to help other's get started in Home Staging" said Pam. "The market in Seattle is very busy right now and I think it's just going to get better. I don't think there has been a better time to get started in the staging industry.
In addition to the comprehensive curriculum included in the Academy's training program, student's attending Pam's class in Seattle will have a session with Diane Easley, a talented Feng Shui consultant, the owner of a real estate agency who has over 20 year history of connecting people with the right living place and helping her clients create homes that truly support and inspire; Annette Bond, owner of Definitive Style, who will train on how to develop your personal style and help you present yourself as the successful business person you are meant to be; and as an added bonus, an afternoon at the Seattle design center.
ABOUT THE ACADEMY OF HOME STAGING:
The Academy of Home Staging was founded by Kim Kapellusch in 2005 in the Los Angeles area, and has quickly become the Industries' premier Home Staging and Redesign Certification Training Program. Today The Academy operates in California; Seattle, WA; New York City; Washington, DC and Tampa Bay Area, FL. In addition to its leading classroom certification classes The Academy offers a full CD based course, ongoing education and one-on-one business counseling.
For more information call 1800.574.5576 or visit http://www.TheAcademyOfHomeStaging.com.