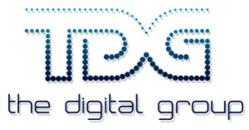 Our re-branding as The Digital Group gives much greater clarity regarding our full suite of digital solutions, and the benefits we can deliver to our clients.
Melbourne, Australia (PRWEB) September 03, 2012
After a successful rebranding exercise, Australia-based TDG Media is now known as The Digital Group—an up and coming digital solutions company specializing in digital marketing and acquisition, e-commerce development, web hosting and e-mail marketing via its own specialist platform, SendNow.
The Digital Group Managing Director Ashley Farrugia explained, "Given our rapid growth across both our commercial and retail business product areas, the name TDG Media no longer reflected the full breadth of our solutions."
He added, "Our re-branding as The Digital Group gives much greater clarity regarding our full suite of digital solutions, and the benefits we can deliver to our clients."
For its hosting services, The Digital Group has partnered with Amazon Web Services (AWS). AWS started offering its web services in 2006. Today, these web services are more popularly known as cloud computing. AWS prides itself in providing reliable, scalable and low-cost infrastructure cloud platforms that power businesses in 190 countries from across the globe. Its data centers are located in the US, Europe, Brazil, Singapore and Japan.
Meanwhile, The Digital Group's in-house e-mail marketing engine, SendNow.com.au, utilizes Amazon SES services which ensure high delivery rates and speeds. The same technology also allows for seamless integration of new members into an e-mail database.
Farrugia noted, "We are also extremely excited by our partnership with Amazon Web Services and the benefits it will bring to our clients. In addition, we are already seeing much higher delivery rates across SendNow.com.au, as a direct benefit of the Amazon reputations, whilst the speed of sending e-mails is positively blistering."
As part of its new business structure and brand identity, The Digital Group has also beefed up its business with the acquisition of several new joint venture entities. These include: female oriented shopping portal LetsShop.com, pet-related discount aggregator site PetBox.com.au and multi-user back end site for boutique winery offerings OzWineDirect.com.au.
Currently, The Digital Group manages DealMonkey.com.au which is a daily deals, catalogues, and online savings aggregator site with subscriber profiling features; DealFree.com.au which is a commission-free daily deal site with no upfront outlay required from users; and RocketEmail.com.au which is a fully managed HTML newsletter service focusing on real estate, financial planning and mortgage broking.
Together with other lists under management, The Digital Group also manages an online, non-incentivized database of more than 600,000 member across which they offer various kinds of marketing services including e-mail marketing campaigns, costs per acquisition (CPA), costs per lead (CPL) and costs per sale (CPS).
Recently, the company was also chosen as the official digital solutions provider of Carbon Market Pty Ltd, owner of Australia's leading carbon management portal.
For more information, visit the website.