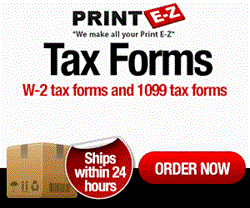 PrintEZ.com understands the complications that businesses have to face while filing tax returns for the business.
Monroe, NY (PRWEB) September 05, 2012
Tax forms retailer PrintEZ.com introduced the complete line of W-2 forms and 1099 tax forms recently. The company that has overhauled its entire website recently has ensured that all the forms required by a business for filing tax returns is available at the click of a button. Different variations of these forms include bulk forms, blanks forms, continuous forms and magnetic media forms too. A business can also opt for W-2 form kits that include Copy A, Copy B, Copy C, Copy D and Copy 1 and Copy 2 too. PrintEZ.com has also shown awareness of the customer's needs by providing tax form and envelope kits so that one does not have to order each one separately. Purchasing these together can also get some great discounts too.
PrintEZ.com is an online printing company that provides business forms, business envelopes, business and personal checks, computerized checks, labels and more. With the variety of intuitive offerings that PrintEZ.com provides, all printing needs for businesses have become extremely easy to manage. With this line of comprehensive tax forms, a company does not need to start printing federal tax forms months in advance before the due date for filing returns.
"PrintEZ.com understands the complications that businesses have to face while filing tax returns for the business. There are too many forms that need to be downloaded and printed before one can file the returns for a business and for each employee as well. The idea is to make the process of filing returns as simple and easy as it can be", says PrintEZ.com CEO, Morris Rose.
In the process of refurbishing the tax forms category, PrintEZ.com has made sure that the right size of paper is used to print each of the forms. The 1099 tax forms now include all the different 1099 forms that are needed including 1099-INT forms, 1099-MISC forms, 1099-S forms and more. For example, the W-2 forms are 8.5 inches by 11 inches. The paper used is government approved 20# bond paper that has been recycled. Choosing tax forms from PrintEZ.com therefore ensures that you are also being environmentally friendly and giving back to nature.
What is even more beneficial to business customers is that each form has detailed information about the kind of paper that is used, the specific size of the paper, the printers that can be used to print on the forms and whether the products is available with a self-carbon option or not. While most of the forms can be printed using laser or inkjet, there are also options available that are best suited to the dot matrix printer too. The latter are good for companies that need to print in large batches.
With the new launches, PrintEZ.com has made sure that all categories and variants of [W-2 forms and 1099 tax forms are covered ensuring that there is no need to look elsewhere. Most of the orders are processed within 48 hours. The shipping times on the site that are mentioned are only estimated and may change depending on the business location.
PrintEZ.com believes in being completely transparent. This is true for the product details that are provided, the price that is quoted and the delivery schedule that is promised. As mentioned by CEO, Morris Rose, "At PrintEZ.com, the customer gets what he sees. The company showcases the product as it is without trying to dupe the customer with false details, hidden costs or promises of early delivery."
PrintEZ.com is even upfront about stating that there are occasional glitches with broken plates or complicated customized logo printing that may take longer than anticipated. It might also be a good idea to check out the other printing offerings from PrintEZ.com while checking the site for a specific tax form.
To read more about Tax Forms click here http://www.printez.com/tax-forms.html
Get more information about how Print EZ offers and new launches on Tax Forms call the company at 1-888-246-0635.
and get regular updates of new offers and deals here.
Print EZ
4 N Main St.
Monroe, NY 10950
(845) 782-5832