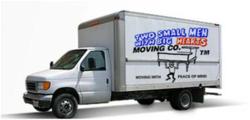 Brandon and his two helpers were great. They showed up on time, worked like dogs all day and moved us in with very
little fuss. - Daniel B.
Vancouver, BC (PRWEB) September 11, 2012
Vancouver Movers, Two Small Men With Big Hearts was supposed to be closed over the Labor Day weekend, with employees enjoying a well deserved rest with their families, but that's not the way it turned out.
When Daniel called last Friday for a quick move from Vancouver BC, he thought he was out of luck. Actually, had he called just about any one of the other Vancouver Movers, he would have been out of luck. Fortunately, he spoke with Glen Buckler, the owner of Two Small Men With Big Hearts. Glen pulled out all the stops and got the move done over Labor Day Weekend.
Glen said, "Normally we'd be closed on a holiday, just like everyone else, but Daniel was in a real pickle, so we broke our own policy and thank God that we did." As it turns out, while most people are playing over the holiday, there's a surprising number of people moving on holidays.
As the largest independent moving network in North America, Two Small Men With Big Hearts Moving will be open to serve their customers any day that customers need help, even on Holidays. So whether you are looking for Toronto Movers, or Montreal Movers, or Calgary Movers, Two Small Men will now be ready to help you.
Renters, homeowners and businesses have all used Two Small Men for a move. The company has been based out of Vancouver, Canada and is always expanding. With the ability to move people in the province, across the country and even out of the country, their services are extensive. They can help with packing, storage and many other services. The company has locations in Alberta, British Columbia, Manitoba, and more.
The company has over 200 trucks. With a fleet this size, there is no job too small or too large for them. They remain busy throughout the year, even when other moving companies are reporting slow operations. Much of this has to do with the company's commitment to excellence. On the website, http://www.twosmallmen.com, there are video testimonials of customers speaking about their experience. The company is also willing to share their long list of written letters of recommendations and praise that they get from customers on a regular basis.
In the 32 years that the company has been in business, they have served over 200,000 customers. Each one of these customers has been satisfied with the move. The company sees to it. Two Small Men is committed to excellence. From the services they offer to the movers they hire and the attention to detail with every move, the company wants to ensure satisfaction with every single move.
A variety of items needed to be moved from the Hospice in Seattle to the Camp in Carnation, Washington. The moving company volunteered to handle the move at no charge. The organizers of Camp Erin had nothing but positive comments about the movers, adding another group of satisfied customers to the growing list.
The moving company is dedicated to helping the community and has done so for many years. The volunteer work of the company is well-known around the Seattle area. Many residents who are moving choose this company because of their ability to give back to the community. Having a moving company that is socially responsible is not always easy to find and residents are pleased to have such a company in their backyard.
Residents and businesses alike make up the list of satisfied customers that the moving company has. With over 200,000 satisfied customers, this is proof that the company understands what it takes to provide a quality move, regardless of size or distance. The company has helped people relocate throughout Vancouver, the country and even throughout the US and beyond.
Two Small Men has been in business for a long time and anticipates staying in business for an even longer time. With more happy customers rolling in every day, the company relies on word-of-mouth to generate more business. Now you can have a great holiday even if you're moving.