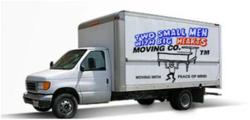 I just got off the phone with Glen Buckler. We
discussed the generous donation use of a truck and driver to take our gear
to a 3 day camp we are hosting for bereaved children.
Seattle, WA (PRWEB) September 11, 2012
Seattle Movers, Two Small Men With Big Hearts, often goes the extra mile for their customers, providing moving services "with a big heart". That same philosophy is now being incorporated into their new "Go The Extra Mile" charity program.
To kick off this new charity initiative of giving back to our Seattle area community, Seattle Movers, Two Small Men With Big Hearts, decided to help out Camp Erin-King County, which helps bereaving children and teens.
Camp Erin®‐King County is a three‐day overnight camp for kids and teens, 5 to 17, who have experienced the death of a loved one. Facilitated by professional staff from Providence Hospice of Seattle's Safe Crossings Children's Grief program and trained volunteers, Camp Erin is offered free of charge to kids and teens throughout King County.
At Camp Erin, kids have an opportunity to be around other kids who have experienced similar losses. They participate in typical camp activities (swimming, kayaking/canoeing, arts and crafts, field games, and more), as well as activities designed to help them understand and process their grief.
Needing help, moving kids and equipment for the three day camp, Mary Jean of Providence Hospice, a major supporter of Camp Erin®‐King County, gave Two Small Men With Big Hearts a call. Mary Jean was just looking for a quote, she never imagined that Two Small Men With Big Hearts would donate a truck and a driver for both the setup to the camp and the break-down and return trip two days later.
This donation is even more surprising when you consider that August is always the busiest time for Seattle Moving Companies. Every day, every truck, and every driver is booked solid for the month of August, but somehow Two Small Men got the job done. They truly have "Big Hearts".
Up to this point, Two Small Men With Big Hearts has just given back to the community on a regular basis. Glen Buckler, the company's owner says, "In the past, there was no fan fare, no big plan, we just gave as time, money, and opportunity arose. Now that we've grown into the largest independent moving network in North America, it's time that we give on a more regular basis, thus our Go The Extra Mile program."
Two Small Men With Big Hearts will not be accepting requests for charity, instead they will be earnestly looking for people and organizations to help from within their customer base.
Two Small Men With Big Hearts has years of experience moving people all across the country and some even outside of the country. Homeowners and businesses alike have called on the services of this moving company and have had positive things to say about their experience.
Two Small Men With Big Hearts has their regional operations conveniently and centrally located at the cross roads of I5 and I90, in the heart of Seattle. They have been steadily growing in the 32 years they have been in business. With a fleet of over 200 trucks, they have locations all across North America. Over the years, they have served over 200,000 customers, which makes them a reliable moving company in the area.
Two Small Men With Big Hearts is one of the oldest and largest family owned independent moving companies in North America. Due to their large fleet, they are able to take on the larger jobs that many other moving companies are unable to. This makes it easier for them to serve a variety of different customers. They have helped Fortune 500 companies with moves, residents with moves and much more.
Two Small Men With Big Hearts offers a list of recommendations for their customers. Due to the variety of services they offer, many customers are more than satisfied after the move is over. They are happy to write a letter or recommendation, which is added to the customer's file. At the company's website, they also have several video testimonials of real customers talking about the level of satisfaction with the company.
If you're looking for a Seattle Moving Company, then you should probably check out Two Small Men With Big Hearts for a free quote.