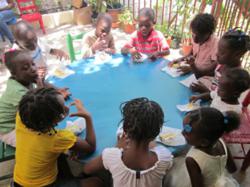 COHP is literally a shelter in the storm – it's a safe haven for kids who would have nowhere else to go.
Hyannis, MA (PRWEB) September 07, 2012
More than two years after the devastating earthquake that hit Haiti, COHP, (Children of Haiti Project), a school created by a community of international schools and organizations, received much needed funds from Purple Cake Day, another organization created in response to the tragic earthquake of 2010.
"We have been fortunate to receive an outpouring of support from the international school community and associates, but the challenge is to sustain the program from year-to-year," said Forrest Broman, CEO of The International Educator (TIE), the non-profit organization that helped create and organize the COHP School.
Purple Cake Day's donation of over $11,000 comes at a time when COHP struggles to continue the school's mission of providing education and healthcare to children rendered homeless after the earthquake, "We are so grateful that Purple Cake Day has chosen COHP to be one of their featured projects," said Broman.
"Since sustainability is one of our key challenges, an organization like Purple Cake Day can really make a difference because they don't focus on one-time donations, they set fundraising goals for their partner charities, forming a more lasting partnership than a typical fundraiser," said Broman.
Purple Cake Day and COHP share something in common; they were both born out of the tragic earthquake that struck Haiti, on that fateful 12th day of January in 2010.
The comparisons don't end there, both organizations were founded on the idea that, "In the face of human tragedy, doing nothing is not an option." These were the very words that came to Broman when he took in the magnitude of the quake's destruction and realized something must be done.
For Purple Cake Day's founder, Emily Sanson-Rejouis, the tragedy was even more personal -- she lost her husband, Emmanuel, a UN employee, and two of her three daughters, five year-old, Kofie-Jade and three year-old Zenzie. Her youngest child, one year-old baby girl, Alyahna was rescued after 22 hours under the rubble.
For most people, suffering the loss of nearly all one's family members would be reason enough to give up hope, but for New Zealand-born, Sanson-Rejouis, the reaction was just the opposite. "Shortly after the earthquake, and in honor of my family, I established the Kenbe La Foundation Charitable Trust to provide educational opportunities for children in need in Haiti," says Sanson-Rejouis, on her website, purplecakeday. "Kenbe La" is Haitian Creole and means "Never give up."
So when is Purple Cake Day and where does the name come from? Purple Cake Day is March 1st, and was inspired by Sanson-Rejouis' daughters. According to Sanson-Rejouis, five year-old Kofie from an early age reached out to children living on the street, and always wanted to share her things with them.
Zenzie, who was to celebrate her fourth birthday, was asked a week before the quake what she wanted for her birthday, and her answer was simple: "I want a purple cake, two purple cakes!" Zenzie did not live to celebrate her birthday, but her spirit, and that of her sister's lives on in Purple Cake Day's mission of children helping children in need, through celebration, education and fundraising.
The support of Purple Cake Day has come at a critical time for COHP, particularly in the wake of Tropical Storm Isaac that hit Haiti's southern peninsula during the last week of August, causing flooding and killing 24 people, according to official figures released by the government of Haiti.
During the storm, the COHP School served as a temporary shelter for the families of COHP's 88 students who reside in the neighboring Delmas tent camp, which itself was set-up more than two years ago as a temporary shelter area and is now home to over 4,000 displaced survivors. The flooding has caused sewage overflows and poses serious health risks to the inhabitants of the tent city such as such as cholera and other waterborne diseases.
"Everyone is safe now and the parents were able to repair their tents late Saturday afternoon," reported Dominique Pierre, COHP's head teacher, just days after the storm. "I personally went from door-to-door to return the kids to their parents, otherwise, they would have been left at the school for days," says Pierre.
During the storm and its aftermath, the COHP students continued to receive their daily hot meals and vitamins. Immediately after the storm there were ten COHP children Pierre was unable to locate. Working tirelessly to find the missing students, by week's end, Pierre reported that all of the students had been found and accounted for. Pierre, who herself was battling a low-grade fever due to the effects of the heavy rains and the related health issues that go along with the lack of adequate drainage, expressed relief and happiness at finding all the children and knowing they were safe.
"We are so honored and privileged to be a partner charity that Purple Cake Day has selected to work with this year," said Broman. "Through their support, we are able to continue the work that COHP does for its students, which goes far beyond providing education and nutrition -- COHP is literally a shelter in the storm – it's a safe haven for kids who would have nowhere else to go."
Purple Cake Day is a non-profit organization that celebrates children, empowering them to learn about children globally and fund-raise for those in need. Purple Cake Day invests in quality educational opportunities like the Children of Haiti Project (COHP), which was created by The International Educator (TIE), along with a network of international schools and organizations, to serve the educational needs of children displaced after the 2010 earthquake.