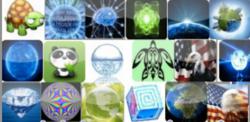 They were very enthusiastic and wanted to share the apps with their past and previous instructors
Commack, New York (PRWEB) September 01, 2012
New York City science teacher and iOS and android developer, Frederick Feraco Jr., has 19 titles in the app store for iPad/ iPhone and now 8 apps for Android to help students prep for their classes, regents and final exams. These apps are all part of his "Buddy" apps consist of lessons, videos, interactive quizzes, daily news feeds and flash cards. They are broken into topics: chemistry, biology, physics, earth science, environmental science, global history, US history, integrated algebra, geometry geography,anatomy and physiology, astronomy, middle school life science, physical science and health education.
Some of the regents apps consist of question banks with NYS regents questions from past exams. There are also NYS regents exams with answer keys on each exam, as well. The daily news feeds also vary among each app. The news feeds are specific to each subject. Also videos specific to each topic. All of the apps are being updated daily to ensure the best possible product.
We asked high school honor students, in a study group, to take a look and let us know what they thought. They were very enthusiastic and wanted to share the apps with their past and previous instructors. We are in the process of turning our local high school students on to these great apps! Hopefully, this post will help get the word out that these apps cover a vast amount of curriculum and could help any advanced junior high students, high schoolers, home-schoolers, or even college students.
Frederick developed these apps to help all students with studying, and to make studying as convenient as possible. He has taught biology, physics, chemistry, environmental science, anatomy and physiology, robotics, engineering and biotechnology. He has his masters in secondary education and continues to further his education at Columbia University for Computer Science classes. Let's help him with his dream to spread this knowledge beyond the four walls of his classroom.
He has just released His first 7 Android apps
1. Environmental Science Buddy
2. Bio Regents Buddy
3. Chem Regents Buddy
4. Earth Science Regents Buddy
5. HS Physics Buddy
6. Human Body Buddy
7. Astronomy Buddy
The features of these apps include everything you need to learn
1. This app includes attractive lessons on all topics
2. Interactive Fun quizzes by topic
3. Sharing through email or text message
4. Fun videos from youtube.
5. Flash cards by topic.
6. Daily content related news feeds