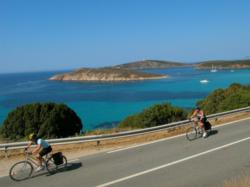 Chattanooga, Tenn. (PRWEB) September 11, 2012
As summer draws to an end in North America, travelers can extend the active vacation season with fall bicycle tours in Mediterranean destinations offered by BikeToursDirect. The Mediterranean's renowned regional climate lends itself to sunny, warm autumn days perfect for exploring Europe's southern coasts through October and November. Whether travelers are experienced cyclists or are just looking to see the world from a different point of view, BikeToursDirect has more than 30 fall bicycle tours in the Mediterranean.
Fall bicycle tour highlights:
Undiscovered Cyprus
(Self-guided daily departures - land costs start at $680.)
The Karpaz peninsula of North Cyprus is the most unspoiled and beautiful part of the island. Cycle through traditional villages with churches and mosques standing side by side, passing almond, carob and olive groves. Along the Cyprus coast, beautiful, pristine beaches beckon cyclists to take a swim or walk in the warm sea.
Apulia and Basilicata, Italy: Castles and Wines tour
(Self-guided daily departures through Nov. 5, guided departure on Oct. 6 - self-guided land costs start at $870, guided land costs start at $1220.)
This cycling tour through southern Italy will take travelers back in time to an Italy we only read about in history books. Departing from the Alta Murgia plateau, visit Trani, known for its port and enchanting cathedral and explore Venosa, an ancient Roman city. After passing through the Vulture vineyards, head south along roads surrounded by golden hills. Discover local art treasures every day in the markets and sample the world-renowned cuisine of southern Italy.
Sardinia, Italy: A mine of memories
(Self-guided departures every Saturday – land costs start at $675.)
Sardinia's southwest forms a rugged wedge of land that juts into the Mediterranean, its craggy coastline dotted with fine beaches. Cycle through some of the most beautiful countryside on the island while stopping to rest and explore its many towns. Visit temples and fortifications founded by Phoenicians, settled by Carthaginians and occupied by Romans, as well as some of the best-preserved ruins at Tharros.
Southern Sicily, Italy
(Self-guided departures starting every Saturday through Oct. 20 – land costs start at $840.)
Bike the southeastern corner of Sicily, the largest island in the Mediterranean. Cycle past the Val di Noto, a UNESCO World Heritage site, and discover the most fascinating cities of the region. Visit Noto, the most important baroque city of Sicily, and Syracuse, an ancient Greek colony. Also visit the coastal oasis of Vendicari, the sea village of Marzamemi and the islands of Capo Passero and Correnti.
Greece Coast to Coast Explorer
(Guided tour – Departs Oct. 14 – land costs start at $1025.)
This rugged point-to-point mountain bike adventure explores a lesser-known Greece well away from the beaten tourist tracks and amenities. Experience superb mountain biking across two mountain ranges and three coastlines. This challenging tour alternates between stunning coastal tracks and thickly forested mountain terrain with the best of Greek cuisine.
View all Mediterranean bike tours with fall departures.
About BikeToursDirect
BikeToursDirect serves as a central resource for bicycle tours around the world, representing 75 tour companies that offer more than 300 tours in 60 countries throughout Europe, Asia, Africa, Australia and North America. BikeToursDirect offers a variety of resources to help travelers search for and choose tours and handles the entire booking and payment process.
Learn more at http://www.biketoursdirect.com.