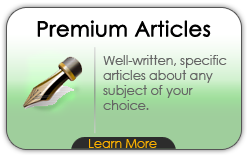 Many people believe that content marketing is dead and gone. This couldn't be further from the truth.
Washington Terrace, UT (PRWEB) September 05, 2012
Leading SEO content writing provider, Buykeywordarticles.com, is now promoting their "Premium Article" product as a Penguin-friendly solution for SEO agencies, corporations, and small businesses looking to create back links. With the most recent Google Penguin update, many companies have cut back on their content marketing and some have gotten rid of it altogether. While many marketers have fallen prey to the notion that posting content for back links is no longer effective, Google representatives have made it clear that linking is a still a priority when it comes to site rankings. The most obvious change is that content can no longer be unreadable, spun, or of little value if links are to receive any weight.
"Many people believe that content marketing is dead and gone. This couldn't be further from the truth," stated Matt Secrist, VP of Sales and Marketing at Buykeywordarticles.com. "What marketers need to realize is that Google is just trying to make a behavioral change. Rather than cutting corners on outsourced, cheap content from out of the country, marketers need to find quality, affordable, readable content that is geared for linking purposes. This is something that we've worked hard to perfect." Buykeywordarticles.com offers a variety of different content products on their website. The "Premium Article" product is a tier above basic SEO articles and is meant for niche blogs and industry specific sites that allow guest posting.
All Premium Articles are written by American writers proficient in the English language. They are meant to be more specific and well-researched than your basic SEO content writing. They are usually topic driven and can include 1-2 keywords within the text. Premium Articles are more engaging, including catchy titles, sub headings, and the occasional bullet list to help break up information. These articles will contain very few grammatical errors and can be customized to be written in 1st, 2nd or 3rd person tenses.
For more information about the "Premium Article" product and how it can complement content marketing strategies involving guest posting, please visit the "Premium Article" product page at http://buykeywordarticles.com/premiumarticles.html#ecwid:category=2278747&mode=product&product=10054127.
About Buykeywordarticles.com
Buykeywordarticles.com is one of the leading SEO article content providers on the web today. They have served clients ranging from individual internet marketers to Fortune 500 companies. Their content services include both on-page and off-page content and they provide internet marketing solutions through the use of in-house writing teams, dedicated project managers and quality content. To acquire more information on the services that they provide, please visit http://buykeywordarticles.com/.