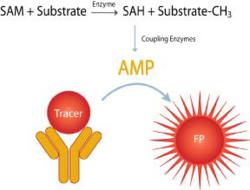 (PRWEB) September 04, 2012
Discovery of new drugs that target methyltransferases has become a major initiative for many pharmaceutical and biotech companies, as these enzymes are responsible for epigenetic modifications underlying a broad range of diseases, including cancer and autoimmune disorders. Unfortunately, efforts to identify new molecules that disrupt the activity of aberrant methyltransferases (MTs) have been slowed by the lack of robust high throughput screening (HTS) assays and high quality, purified methyltransferases enzymes. There are more than fifty MTs in humans, and each requires a specialized set of conditions and components to produce activity. BellBrook recently launched a sensitive, HTS-ready methyltransferase assay, called the Transcreener EPIGEN Methyltransferase Assay, with universal applicability across the entire MT family (Klink, et al, J. Biomol Screen, 2012). Reaction Biology has produced more than 30 recombinant human methyltransferases to the most stringent purity and activity requirements in the industry. BellBrook is now undertaking a comprehensive effort to identify the optimal reaction conditions for each of Reaction Biology's methlytransferases in the EPIGEN Methyltransferase Assay. By taking much of the guesswork and upfront assay development out of methyltransferase screening and profiling, the companies hope that their collaborative effort will accelerate the discovery of new drugs for diseases with an epigenetic basis.
Reaction Biology Corporation ("RBC") is a premier provider of in vitro enzyme activity assays for HTS and profiling. Serving over 300 customers worldwide, RBC specializes in optimizing nanoliter scale assaying methods, allowing for high quality data with fast turnaround and economical pricing. RBC offers gold-standard radioisotope based assays in the Kinase, Methyltransferase, and HAT enzyme classes, as well as a full suite of HDAC/SIRT assays. RBC also now provides an expanding line of active, human recombinant HMTs, including some exclusive complexes. Compound libraries, custom assay development, discovery partnerships and cell-based assays are also part of RBC's portfolio of services. Visit RBC's website for more information: http://www.reactionbiology.com.
About BellBrook Labs. BellBrook Labs is dedicated to accelerating drug discovery and biological research by providing innovative high throughput screening solutions for enzymes and phenotypic assays. The company's Transcreener® HTS enzyme assays, used by all of the major pharmaceutical companies, make it easy to screen thousands of different enzymes, including validated targets like kinases, as well as emerging targets like ATPases, GTPases, methyltransferases, and glycosyltransferases. The iuvo™ Microconduit Array technology and assay screening service is a line of unique microscale devices for miniaturization and automation of advanced cell models that are more representative of human physiology. Visit BellBrook's website for more information: http://www.bellbrooklabs.com.