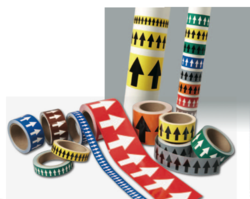 "The pipe labels are so easy to use and requires little time to make sure everyone is safe within the workplace."
Lake Oswego, OR (PRWEB) September 03, 2012
OSHA and ANSI standards require companies to correctly mark exposed pipes for safety reasons. 5sToday.com offers pipe markers and introduces a new product, Pipe Marking Arrow Tape. The heavy duty laminated surface is printed with directional flow arrows to easily and effectively mark pipe flow direction. The strong adhesive will hold up in any industrial environment for years of service. All colors meet the ANSI 535.1 Safety Color Chart and also comply with ANSI/ASME A13.1 standards for pipe markings. The selection of pipe tape includes new colors introduced under ANSI/ASME A13.1-2007. 5sToday.com offers the LabelTac4 Industrial Thermal Printer that will print out all of the 5s, lean, pipe marking labels in-house. Make labels on demand when they are needed in a snap. No waiting for them to show up in the mail. When a company requires professional results from an in-house safety, marketing, 5s, or lean program, 5sToday.com can deliver.
Pipe marking labels is the way to identify the contents of a pipe and the direction of flow of the material which will greatly help out anyone in the area understand what is around them during an emergency situation. It will let rescue workers know if they are putting themselves in any danger. Companies are required to protect workers, visitors and the workplace by properly identifying pipes through OSHA and ANSI standards. Plant manager, Jack Wilson, commented, "The pipe labels are so easy to use and requires little time to make sure everyone is safe within the workplace."
To receive more information about pipe markers and other safety products, visit http://www.5stoday.com or call toll-free (866)402-4776 to have all your questions answered.