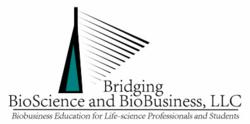 This course creates the bridge or connection between scientific knowledge and the marketplace and it will provide professionals with the knowledge to better assess a company's drug discovery and development strategies and prospects
Manassas, VA (PRWEB) September 04, 2012
Bridging BioScience and BioBusiness LLC, a new Virginia company, co-founded in 2012 by Dr. Lynn Klotz and Dr. William Diehl, has launched its first self-paced online course, "The Business of Modern Drug Discovery and Development." The course, available at http://www.bridgingbio.com, is aimed at science and business professionals and students who wish to learn how their skills can be applied to biobusiness.
The course, authored by Dr. Klotz, provides a unique overview of the business aspects of modern drug discovery and development. It is comprised of eight topics with several hundred lesson components, online meetings and topic-focused discussion forums. "This course creates the bridge or connection between scientific knowledge and the marketplace and it will provide professionals with the knowledge to better assess a company's drug discovery and development strategies and prospects," noted Dr. Klotz.
Dr. Klotz brings over three decades of knowledge and experience to the subject. He is a former Associate Professor of Biochemistry and Molecular Biology at Harvard University, where he was a recipient of the prestigious Dreyfus Teacher-Scholar grant for teaching excellence. He co-founded BioTechnica International, Bio-Technica Diagnostics, has served on the scientific advisory board of Codon, and was interim Chief Executive Officer at Precision Genetics. Along with co-author Edward Sylvester, Dr. Klotz was nominated for a Pulitzer Prize for the book "The Gene Age: Genetic Engineering and the Next Industrial Revolution," and the two have recently teamed up to author the University of Chicago Press book "Breeding Bio Insecurity: How U.S. Biodefense if Exporting Fear, Globalizing Risk, and Making Us All Less Secure."
Co-founder William Diehl is an expert in adult and distance education. He is also an instructor at The Pennsylvania State University and is the interviews editor for The American Journal of Distance Education.
"The Business of Modern Drug Discovery and Development" is available 24/7 through individual registration online. Interested companies can contact the company principals for information on group subscriptions.
Additional information is available at http://www.bridgingbio.com.