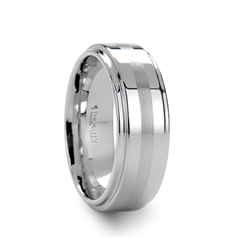 irvine california (PRWEB) September 21, 2012
Larson Jewelers (http://www.larsonjewelers.com) has just expanded their white tungsten carbide rings line, made exclusively by Thorsten Rings, a company that specializes in alternative metals jewelry. White tungsten carbide rings are ideal for couples who prefer their tungsten carbide wedding bands to have the bright white color of white gold or platinum rings, yet be much more durable and affordable than white gold or platinum.
White tungsten carbide rings are made by a process called Physical Vapor Deposition, or PVD for short. This is more of a coating process then a plating process. This means that very small particles of Platinum Group Metals are shot at extremely high speeds into the surface of the tungsten ring. The platinum group metal particles get embedded into the surface of the tungsten ring, forming a much tougher bond than traditional plating methods, kind of like when a meteorite impacts the earth and becomes part of the earth's crust. White gold is also plated with a platinum group metal, but not using this method and that is why anyone that has ever owned white gold jewelry knows the plating comes off quite easily.
White tungsten rings were created as an affordable alternative to platinum and white gold rings, which are expensive and easily scratched. Many couples want their wedding bands to match their engagement ring in color. This is why couples have purchased white gold or platinum wedding bands in the past, but due to the high cost of gold and platinum these days, many couples find it too costly to purchase a total of 3 rings in such expensive metals. Plain tungsten rings were an affordable alternative, but had a darker grayish color that did not quite match their engagement ring, but with white tungsten, both these issues have been resolved. Couples no longer need to settle. They can get both their requirements met. By choosing white tungsten, couples can get affordable rings that are similar in color and weight to white gold or platinum.
Thorsten Rings saw a need that was not being met in the bridal jewelry market and developed their white tungsten carbide wedding bands line to help couples meet this need. "There is no such thing as the perfect metal that can meet the requirements of everyone, but the folks at Thorsten Rings have come out with a wedding band line that comes closest to being the perfect metal for today's couples." says Jonathan Larson, founder of Larson Jewelers.
The only drawback, which is a drawback for any material that is hard, is that tungsten carbide rings can be brittle and crack, just like a diamond can. Due to how hard the metal is, it cracks before it bends. However, all of the rings in their white tungsten line are backed by Thorsten's industry leading free lifetime warranty, which covers size exchanges in case of change in finger size over one's lifetime and protects against accidental damage; all this at no additional cost to the consumer.
About http://www.LarsonJewelers.com:
LarsonJewelers.com provides the largest selection (over 250 styles) of tungsten carbide rings in the world. They also have large selections of palladium rings, ceramic rings, cobalt rings, titanium rings and silver rings. At Larson Jewelers, we strive to provide the best customer service to make your shopping experience hassle free and informative. "Besides offering great products and great service, LarsonJewelers.com also offers the best prices," says Larson. "In fact, if you can find a better price, not only will we match it, we will beat it."