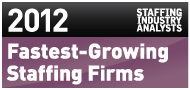 Charlotte, NC (PRWEB) September 01, 2012
In-Flight Crew Connections, a leading full-service staffing company for operators of business class jets and flight crew staffing, recently announced that it ranked 21st on Staffing Industry Analyst's 2012 Fasted Growing Staffing Firms. Staffing Industry Analysts, a leading global advisory firm, reports that to qualify for the list, staffing firms had to have compound annual revenue growth of at least 15 percent between 2007 and 2011. Additionally, all staffing firms had to post at least $1 million in revenue in 2007.
The annual surveys developed by Staffing Industry Analysts are used to support and assist growth efforts within the global staffing industry. The 2012 Fasted Growing Staffing Firms list was comprised of 72 staffing companies, with the top 10 fastest-growing firms having a median compound annual growth rate of 48.9 percent. Between 2007 and 2011, In-Flight Crew Connections recorded compound annual growth of over 36.1% and revenues exceeding $4.5 million.
"We were truly honored to receive recognition from Staffing Industry Analysts for our continued growth over the past few years," said Jennifer Guthrie, Director of Operations at In-Flight Crew Connections. "With our professional staff and new state-of-the-art facility, the size of our operations has increased and our projected growth rate for the next five years is phenomenal."
According to Staffing Industry Analysts, the remarkable growth of these firms is particularly notable, given that the staffing industry as a whole contracted by 11 percent during the 2007 to 2011 period. For more information about the staffing services that In-Flight Crew Connections provides, visit their website at http://www.inflightcrewconnections.com.
About the company:
In-Flight Crew Connections is a global leader since 2002, providing aviation industry staffing solutions. Focused on developing customized solutions that meet the unique needs of their clients, their range of services include:

ONe-CALL™ Temporary Crew Services
Recruitment
International Staffing
For more information visit their website at http://www.inflightcrewconnections.com.