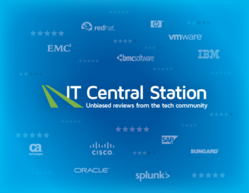 IT Central Station is revolutionizing the enterprise technology buying process through the power of online product reviews and social networking.
New York, NY (PRWEB) September 04, 2012
New York-based startup IT Central Station announces the launch of its new free social network for enterprise technology professionals at http://www.itcentralstation.com. IT Central Station is the industry's first online review site for the software, hardware and services used by Fortune 1000 enterprises.
Enterprises worldwide spend nearly $3 trillion annually on technology products and services. The technology professionals who spend this money base their decisions primarily on information from vendors, consultants and analysts. However, what they really want is access to actual users of the products and services to get unbiased opinions based on their real world experience. IT Central Station enables technology users to speak out and make their opinions heard while enabling technology buyers to tap into this wealth of knowledge to make the best buying decision.
The site has been in private beta since May 2012 and already includes hundreds of reviews of products and services from companies such as CA, Cisco, HP, IBM, Microsoft, Oracle, SAP, VMware, as well as from smaller vendors.
IT Central Station was built for the needs of enterprise technology users. Site features include:

Private social network for the end user community: Prevents vendors from posting reviews of their products or competitor products.
Rigorous user validation: Validates the authenticity of users based on their company email address and cross-references with LinkedIn and other data sources.
User privacy: Promotes candid discussions and recommendations within the community by enabling users to post anonymously.
Professional social graph: Uncovers a user's professional connections with expertise in products and services of interest.
Over 4,000 enterprise-class products and services from over 1,400 vendors: Includes the largest and most up-to-date catalog of technology products and services—including cloud, SaaS, mobile and Big Data solutions—that are used by enterprises.
"In my personal life I use online review sites such as Yelp, TripAdvisor, and Angie's List to help me choose what is best for me," said Russell Rothstein, co-founder and CEO of IT Central Station. "So I was amazed to discover that enterprise technology professionals had no place to go to get online product reviews and connect with real users before making such an important purchase. That's why we founded IT Central Station–to empower enterprise buyers with access to information and connections they never had before."
The New B2B Technology Buying Process
The Internet is a disruptive force in the way enterprises make buying decisions. "Tech buyers delay engaging with salespeople until later in the purchase process, " said Peter Burris VP Research Director, Digital Products at Forrester Research Inc. "Our research shows that tech buyers are using web and community resources to complete nearly 70% of their buying journey before they ever engage with a sales resource." (Source: Catching Up To Tech Customer Communities, Forrester Research Inc., October 31, 2011). IT Central Station provides the most critical online resources technology professionals need as they start and progress through their buying journey.
Pricing and Revenue Model
IT Central Station is 100% free for end users of technology products. Revenue comes from vendors who sign up to connect with the IT Central Station community of users and buyers. Vendors can gather candid feedback from real users, invite their happy customers to share success stories with the community, and participate in relevant discussions taking place within a high quality community of real users. IT Central Station protects the privacy of its users and has a 100% opt-in policy to prevent unwanted solicitations from vendors.
About IT Central Station | http://www.itcentralstation.com
IT Central Station is revolutionizing the enterprise technology buying process through the power of online product reviews and social networking. Enterprise technology professionals use IT Central Station to access and share unbiased product information and tap into a community of other real users in order to make the best buying decision in the $3 trillion market worldwide for enterprise IT products and services.
IT Central Station was founded in 2011 by entrepreneurs Russell Rothstein and Naftali Marcus, who each have twenty years of experience in the enterprise technology market. Russell Rothstein, who is CEO of the company, was co-founder and CEO of Zettapoint (sold to EMC) and co-founder of Open Sesame (sold to Bowne/RR Donnelley), and holds degrees from Harvard (BA in Computer Science) and MIT (MS and MBA).
###
Contact Information
Russell Rothstein, Co-Founder and CEO
Phone: +1 (646) 328-1944 x33
Email: russell(at)itcentralstation(dot)com
Twitter: @RussRothsteinIT
LinkedIn: http://www.linkedin.com/in/russell
Skype: rrothste
244 5th Avenue, Suite R-230
New York, NY 10001