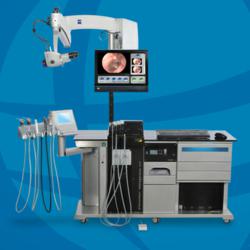 "Euroclinic's ENT workstations are unique to the market, high performing and very cost effective." -Dustin Spencer,
Euroclinic Product Line Manager
Louisville, KY (PRWEB) September 04, 2012
DRE, Inc.—a premier medical equipment provider—will roll out the new standard for all-in-one ENT procedure systems from Italian manufacturer Euroclinic at OTO EXPO Sept 9-12 in Washington, D.C. These evolutionary ENT workstations combine all of the commonly used ENT equipment with state-of-the art technology for an improved level of productivity and patient safety.
Euroclinic's workstations have elegant, modular construction and mobility that replace built-in cabinetry and inefficiently designed workspaces. DRE's ENT line will include the Otocompact Professional EVO, Otocompact Professional Luxe and the Otocompact Steel.
Each unit is equipped with high-level Italian and German engineering to provide a superior experience for both the patient and the doctor. With top of the line Italian leather ENT chair and precision-made mobile cabinet housing constructed from the highest quality materials, these workstations are ergonomic, attractive and provide a sophisticated look that fits well in large or small spaces.
Select Unique Features:

Mobile European designed workstation
Integrated Italian leather seating
German Engineered Zeiss ENT microscope
Advanced LED lighting systems
Fully integrated video endoscopy suite
Wireless and touch technology
Dustin Spencer, DRE's Euroclinic product line manager, touts that the line offers benchmark quality in a small form factor and at a great price point.
"These ENT workstations are the perfect option for doctors starting a new clinic or replacing several items. Euroclinic's workstations are unique to the market, high performing and very cost effective. Euroclinic integrates all of the vital components for ENT diagnosis and procedure for a much more affordable price than the alternatives of buying the components separately.
There is no better all-in-one solution. The Euroclinic ENT workstations are truly a complete office solution that is engineered to significantly improve ENT workflow."
About DRE, Inc.
DRE is a premier medical and surgical equipment supplier that provides a combination of new and professionally refurbished or used medical equipment to industry professionals around the globe. DRE offers value to doctors by providing the features and reliability they need while still fitting within their budget.
About Euroclinic
Italian manufacturer Euroclinic specializes in the production of cutting edge equipment for professional outpatient rooms. Euroclinic's engineers work with otolaryngology experts to generate professional ENT equipment with Italian style.