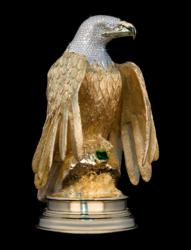 The Maltese Eagle is unlike anything anyone has ever seen
San Francisco, CA (PRWEB) September 06, 2012
On Friday evening, September 14th, historic John's Grill is where San Francisco's legendary Maltese Falcon will meet the Maltese Eagle, the world's largest solid gold and diamond encrusted statue to declare war on breast cancer. The solid gold masterpiece previously known as The Golden Eagle will have a new name - The Maltese Eagle.
Recently Maltese Falcon author Dashiell Hammett's daughter and granddaughter learned of businessman and philanthropist Ron Shore's one of a kind masterpiece and agreed to join Shore for this iconic rendezvous. Hammett's granddaughter Julie Rivett writes:
"Historic John's Grill is where San Francisco's legendary Maltese Falcon will meet the solid gold, diamond and jewel encrusted Maltese Eagle to declare war on breast cancer."
"Every woman deserves the best medical science has to offer, which is why the Hammett family is joining John's Grill, Ron Shore, and the Friends of Faith Fancher to support breast cancer services for underserved and underinsured women. Together we can make a difference!"
"My grandfather, Dashiell Hammett, told a story about treasure seekers chasing a fabulous jeweled bird across the globe and through the streets of San Francisco. Please join my mother Jo and me as we return to San Francisco to pursue awareness and advancement for a far greater treasure—health."
-Julie Rivett
Granddaughter of Dashiell Hammett
Historic John's Grill has been a San Francisco institution since 1908 and is the home of the Maltese Falcon, the precious statue made famous by detective novelist Dashiell Hammett who wrote in his famous novel:
"Sam Spade went to John's Grill, asked the waiter to hurry his order of chops, baked potato, sliced tomatoes ... and was smoking a cigarette with his coffee when…"
For over a century John's Grill has been a favorite of entertainers, politicians, detectives, journalists and generations of San Franciscans in search of a great meal and a piece of history.
The Maltese Eagle was created in an effort to raise money for breast cancer after Shores' sister-in-law passed away from breast cancer just two days after giving birth to her daughter. Shore is selling the Maltese Eagle for $5 million dollars with $1 million of the sale price being donated to the breast cancer charity of the buyers choice.
The sculpture is the world's largest solid gold and diamond encrusted statue and thought to be the worlds' third largest solid gold sculpture. It weighs an impressive 18 pounds of solid gold. The eagle is hand-crafted in 18kt white gold, 14kt white and yellow gold, and 10k yellow gold and took more than 4,000 hours to create.
A team of more than 40 craftsmen who have created pieces for the Saudi and British Royal families were intricately involved in the design and finishing of the piece. Its head is set with 763 round brilliant-cut diamonds weighing 56 carats, its eyes are two 1.1 carat perfectly matched pear-shaped diamonds bezel set in white gold.
The eagle has an unexpected real life connection to the fabled Maltese Falcon going back 400 years. In the story the Maltese Falcon was supposedly stolen from a Spanish treasure galleon off the coast of Spain in the Middle Ages. Cradled between the talons of the eagle is the incredible 12.72 carat Atocha Star Emerald, which was recovered in 1985 from the largest sunken Spanish treasure galleon ever found, the Atocha. The Atocha was lost along with seven other ships in a hurricane in September 1622 and was found by famed treasure hunter Mel Fisher.
The Atocha Star was 25.86 carats before it was cut, and is unique because it was a personal gift from Mel Fisher to Deo Fisher, his wife, after their 16 year search for the Atocha. The emerald was chosen based on its size, brilliant color, and quality and is the world's largest cut emerald from the Atocha. It was provided to Shore to help him on his quest to help find a cure for breast cancer after both Mel and Deo Fisher passed away from cancer.
The San Francisco event on September 14th will be attended by a number of dignitaries including members of Dashiell Hammett's family, celebrities, supporters of breast cancer research, media, and Maltese Falcon enthusiasts. The event is by invitation, however, a limited number of VIP passes are available to the event for $500 each with net proceeds going to San Francisco's Friends of Faith Fancher named after a beloved newscaster who lost her battle to breast cancer in 2003.
For more information about the event or the Maltese Eagle, please contact Ron Shore at 1-604-857-2488 or e-mail Ron(at)GreatHunt(dot)com. Additional Photos available here.