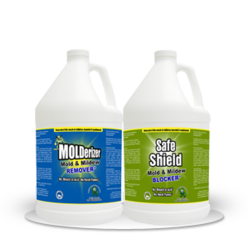 With them, residents cannot only protect theirs and their family's health from mold and chemicals but in fact, better it...
North Miami Beach, FL (PRWEB) September 06, 2012
Tropical strom Isaac has already been upgraded to category 1 hurricane. And as reported by washingtonpost.com, it is currently moving in a slow pace that could drench southern Louisiana and New Orleans for up to two days. Stating that Isaac's dump of water will surely leave those areas vulnerable to mold presence, Molderizer offers help in the form of a discount to its non-toxic mold remediation products.
Take Advantage of the 20% Price Cut. Order Your Mold Remediation Products Today
Based on the report, Hurricane Isaac's pace is the biggest concern. It is moving in a wobbling slow pattern at 6 mph with an 80 mph wind. With that slow movement and with the heavy rains that it brings, the report said that it could cause devastating floods in the areas it will pass. In fact, it added that floodwater already invaded Louisiana's Plaquemines Parish.
According to Molderizer.com, the presence of Isaac makes several states in the country likely to be invaded by mold. Specifically, it said that the flooding makes the victims' properties highly susceptible to mold invasion.
Nonetheless, residents can still save drenched or submerged items from a complete mold takeover. The website said that as soon as it is already safe to come out and start cleaning, residents should promptly dry their properties that could be invaded by mold and spray it with a mold prevention solution.
But in case that mold already grew in the item before one got any chance to prevent it, the site said that immediate mold removal must then be implemented. Otherwise, more spores will grow making it harder to clear the item. And to get that done, it said that a help of a rust removal product is needed for faster and easier process.
There are now several mold remediation products available. With the use of them, mold removal cost is significantly lower than with hiring a professional mold cleaner. But the thing is, not all mold solutions that one can purchase is right for the process. Most of them contain ingredients that could harm the health and even the planet. And so, Molderizer.com advised the residents to only go for organic-based mold remediation products.
Learn the Benefits of the Non-Toxic Mold Remediation Solutions
However, of all the green mold solutions out there, the online company believes that its own sprays namely Molderizer and Safe Shield are the bests. It said that they are proven safe and effective. Additionally, they are imbued with elements that promote wellness. With them, residents cannot only protect theirs and their family's health from mold and chemicals but in fact, better it, the company asserted.
To prove just how effective and safe the solutions are, Molderizer decided to give out complimentary samples of them. And as its help to the Isaac victims, this week, it chose to offer its products with 20% discount. Consumers just have to enter code 'hurricane' at checkout to take advantage of the price cut. So for a much lower mold removal cost, the company encouraged residents to go for its Molderizer and Safe Shield.
Grab Samples of the Organic-Based Mold Remediation Products Now