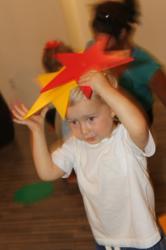 When kids are allowed to be independent, observing & interacting with other kids at an early age, they develop those early socialization skills so important in today's world.
Redondo Beach, CA (PRWEB) September 26, 2012
Move over mommy & me, there's a new gig in town promising to deliver a unique experience for mom and toddler only offered at Studio Pulse in Redondo Beach. Unlike traditional "mommy & me" classes where only moms and non-walking toddlers participate together in one classroom, the activity-based Toddler Program at Studio Pulse allows both mom and dad to get a cardio workout in a 50-minute long Spinning class, while kids are actively engaged in the playroom next door.
While some local gyms have daycare facilities for children, Studio Pulse prefers to keep kids physically active in a safe environment while the parents get in their much needed workout. They believe that instilling a love for movement and fitness in the early years creates strength, balance, coordination and flexibility; plus it's FUN!
"People like the program because it combines Spinning for parents and gives them a chance to de-stress while fostering independence & exploration in their child's young mind; plus it's the only one of it's kind in the South bay, says Elise Hartley, co-owner at Studio Pulse.
So right now you might be asking, just how do they keep a group of toddlers entertained for 50 minutes?
The key to the program's success is the unique approach Katina "Kat" Calvin, Pulse Kids Coordinator at Studio Pulse, brings to the program. She has developed, taught and lead children's programs for the YMCA from ages 6 months to teens. Meet her and you are consumed by her energy. She is a ball of fire and kids take to her right away. Her motto is simple, "Kids learn by watching, doing and repeating." When they are allowed to be independent and observe & interact with other kids at an early age, they develop those early socialization skills so important in today's world. "I teach them core concepts that are developmentally appropriate at this young age. Kids learn how to share, move, sing, dance and are allowed to be themselves," says Kat.
The class is structured yet it allows for kids to explore and participate when they are ready. "This is about kids growing and I want them to learn something new each visit so we can build on new skills. We always end with quiet time and it's amazing to see even the younger kids imitate the others," says Kat."
So if you love to move and want your kids to do the same, come and check out The Pulse Kids Program that offers Toddler classes at 10am once a month on Fridays and Kids Yoga classes every Saturday at 9am. Kids aged 18 months to 3 years are best suited for the Toddler Program and 3 to 10 years for Kids Yoga. You can contact Studio Pulse for more details on these exciting classes for kids.
About Studio Pulse
Studio Pulse, a Mad Dogg licensed facility, combines Spinning classes with strength and flexibility using fundamental training techniques, exhilarating music and a unique mind/body philosophy, all at a self-directed pace. They hold a very accommodating class schedule for SPINNING and Fusion classes that combine Spinning and Cross Training. Their tagline, "Spin Sculpt Stretch," covers all basics of a healthy fitness routine by incorporating cardiovascular, strength and flexibility training in one place. At 50 classes per week you'll find a convenient time to meet your schedule. Classes are offered as early as 6:00am and as late as 7:30pm.