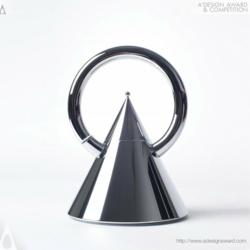 Como, Italy (PRWEB) September 01, 2012
A' Award and Competitions are pleased to share that the project Cortina by Jaeryong Lee has been granted the prestigious Golden A' Design Award at Bakeware, Tableware, Drinkware and Cookware Design Competition chosen as one of the winners by the transnational arbiters of the A' Design Awards & Competitions among numerous nominations.
Insights on Cortina
Jungjoon Hwang, the lead designer of the awarded work Cortina demonstrates ""There is no beginning, and no end. Water cycles." I gave form to the cycle of water as circle by converging the spout and handle of kettle. Watched from the front, it is circular, but watched from the side, we can see that it is distorted. I suggest the concept of not literal convergence, but design convergence as distorted form. I selected the material of kettle whose heat is not conducted up to the handle. To use environment-friendly one, I avoided rubber." Learn more about this design: http://www.adesignaward.com/design.php?ID=25283
The Golden A' Design Award
The Golden A' Design Award is a prestigious award given to top 3% percentile designs that has exhibited an exemplary level of sublimity in design. The designs are judged by a panel of three different jury which is composed of Academic, Professional and Focus Group Members. The designs are evaluated with score normalization to remove any biases and are voted on aspects such as functionality, ergonomics, engineering, presentation, innovation, usability, fun details, technology, and any other specific points that could be considered, each of these points are further weighted for different jury groups.
About A' Design Award and Competitions
A'Design Award and Competitions, aims to highlight the excellent qualifications of best designs, design concepts and design oriented products. A' Design Award and Competitions are organized and awarded annually and internationally in multiple categories to reach a wide, design-oriented audience. Learn more at: http://www.whatisadesignaward.com