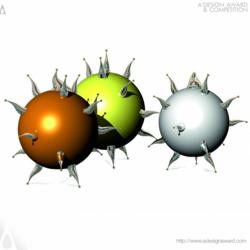 Como, Italy (PRWEB) September 01, 2012
A' Award and Competitions are proud to inform that the work Urchin by Clive Bullivant has been awarded with the renowned Silver A' Design Award in Bakeware, Tableware, Drinkware and Cookware Design Category marked as a winner by the transnational judges of the A' Design Awards & Competitions amidst numerous projects.
More information on Urchin
Clive Bullivant, the project leader of the winning work Urchin explains "This design bridges a gap between fine dining and casual situations. It is inspired by natural forms in particular by Urchins and Corals. The polymer body shells allow strong colours to be employed and resist the corrosive effects of the contents. The size is practical for domestic use whilst being ergonomically functional to hold and the assembly allows for easy batch production. It brings colour and a talking point to dinner parties where it becomes a 'table sculpture' as well as functional object. The materials and appearance make it suitable for an informal gathering of friends." Learn more: http://www.adesignaward.com/design.php?ID=23686
The Silver A' Design Award
The Silver A' Design Award is a prestigious award given to top 5% percentile designs that has achieved an exemplary level of quality in design. The designs are judged by a panel of three different jury which is composed of Academic, Professional and Focus Group Members. The designs are evaluated with score normalization to remove any biases and are voted on aspects such as functionality, ergonomics, engineering, presentation, innovation, usability, fun details, technology, and any other specific points that could be considered, each of these points are further weighted for different jury groups.
About A' Design Award and Competitions
A'Design Award and Competitions, aims to highlight the excellent qualifications of best designs, design concepts and design oriented products. A' Design Award and Competitions are organized and awarded annually and internationally in multiple categories to reach a wide, design-oriented audience. Learn more at: http://www.whatisadesignaward.com