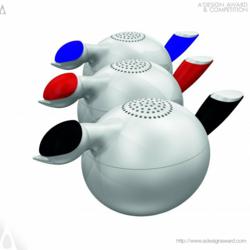 Como, Italy (PRWEB) September 01, 2012
A' Award and Competitions are delighted to share that the project One Good Tern by Clive Bullivant won the famed Bronze A' Design Award in Bakeware, Tableware, Drinkware and Cookware Design Category highlighted as the winner by the international arbiters of the A' Design Awards & Competitions amidst numerous projects.
Winner Design: One Good Tern
Clive Bullivant, the designer of the awarded work One Good Tern demonstrates "The unique design of this mortar and pestle is intended to be a focal point on any kitchen work surface. It incorporates the use of coloured silicone to form safe grips on the stoneware components whilst bringing colour to an otherwise plain object making the product an eye catching feature of the kitchen when not in use. It adapts to fulfil its primary function of grinding ingredients but the lid reverses to fit securely over the mortar bowl transforming to a strainer allowing liquids such as lemon juice to be added when making pastes. " Learn more about this design: http://www.adesignaward.com/design.php?ID=23765
The Bronze A' Design Award
The Bronze A' Design Award is a prestigious award given to top 10% percentile designs that has achieved an exemplary level of greatness in design. The designs are judged by a panel of three different jury which is composed of Academic, Professional and Focus Group Members. The designs are evaluated with score normalization to remove any biases and are voted on aspects such as functionality, ergonomics, engineering, presentation, innovation, usability, fun details, technology, and any other specific points that could be considered, each of these points are further weighted for different jury groups.
About A' Design Award and Competitions
A'Design Award and Competitions, aims to highlight the excellent qualifications of best designs, design concepts and design oriented products. A' Design Award and Competitions are organized and awarded annually and internationally in multiple categories to reach a wide, design-oriented audience. Learn more: http://www.whatisadesignaward.com