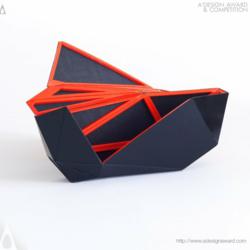 Como, Italy (PRWEB) September 02, 2012
A' Award and Competitions are happy to share that the project Orishiki Hand Bag by Naoki Kawamoto has been granted the famous Platinum A' Design Award in Fashion and Travel Accessories Design Category selected as the winner by the international referees of the A' Design Awards & Competitions amidst numerous submissions.
More on Orishiki Hand Bag
Naoki Kawamoto, the creator of the winning work Orishiki Hand Bag explains "The Clutch bag is a totally new way to think what it means to be a bag; set of polygons that come together to form a closed space, edges attracted to each-other through magnetism." To learn more visit: http://www.adesignaward.com/design.php?ID=23935
The Platinum A' Design Award
The Platinum A' Design Award is a prestigious award given to top 1% percentile designs that has delivered an exemplary level of sublimity in design. The designs are judged by a panel of three different jury which is composed of Academic, Professional and Focus Group Members. The designs are evaluated with score normalization to remove any biases and are voted on aspects such as functionality, ergonomics, engineering, presentation, innovation, usability, fun details, technology, and any other specific points that could be considered, each of these points are further weighted for different jury groups.
About A' Design Award and Competitions
A'Design Award and Competitions, aims to highlight the excellent qualifications of best designs, design concepts and design oriented products. A' Design Award and Competitions are organized and awarded annually and internationally in multiple categories to reach a wide, design-oriented audience. Learn more: http://www.whatisadesignaward.com